Mayonnaise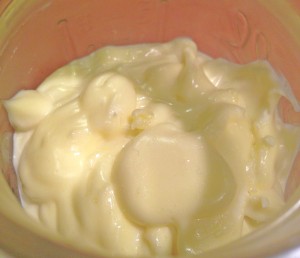 For a long time I did not try making mayonnaise. Since I was a kid I always liked the taste of it, and the smooth creaminess it gives to sandwiches, sauces and recipes. I fondly remember lunching on many ham and cheese sandwiches layered with tomatoes, pickles and a nice combination of mayo and mustard mixed up with it all. The sandwiches, along with the occasional dollop on a tomato or tossing it in tuna salad brings back memories of hot summer days, and loud lunches in school cafeterias. Just to clarify, I am particular about my mayonnaise. Don't even try to assume some generic brand or that despicable 'sandwich spread' is okay. Give me Kraft or Hellmann's traditional versions and I am set. That sweet, cloying 'spread' is for putting on white bread and other horrid foods. Keep it far away from me. I like my mayonnaise tart and creamy. A few years ago Big D and I started trying to get away from mysterious chemicals, and have gradually moved away from store brands where we could. A lot of our successes have kept us out of the middle aisles of the grocery store; you know, where the processed foods and packaged convenience foods are often found. We still dip into the aisles for stuff, but our kitchen is much more absent of such items, compared to a year ago. We feel happier and healthier for it, especially showing Little B how to rely on whole foods and making what you want from scratch. The first forays into making mayonnaise were good tasting, but not quite a replacement for the flavor of my youth. You might not be as picky about the taste as I am, but Big D tried this version recently and it hit the mark! We are pretty sure it is the avocado oil that took it over the edge as a true substitute for me. Olive oil works well, too, but the flavor of olive oil takes it in a different direction. So excited to have such an easy recipe that works every time and keeps me away from the store stuff, which is soy-filled, sugar-filled and preserved with calcium disodium EDTA. I will take care of my own preservation, thank you.
Mayonnaise
1 egg yolk
1 egg
1 cup avocado oil
2 Tbsp lemon juice
1/4 – 1/2 tsp sea salt
Place egg yolk and egg in a blender, turning it on medium speed. Slowly add oil in a narrow stream to the eggs until fully incorporated. Add lemon juice while the mixture continues to blend. Stir in salt to desired taste. Remove mayonnaise to a glass container that can be sealed air-tight. Store in refrigerator.