Beef and Cheese Enchiladas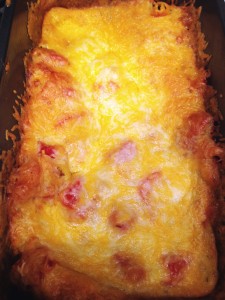 This pan of melted cheese may not look like much, but it represents an exciting success for us. It is another one of those comfort foods we abandoned a while back when we focused on low carb eating. Except for those silly little carby tortillas needed to roll up an enchilada, the traditional ingredients are friendly to our diet. Now, I am sure you already think us crazy for following a restrictive diet. Remember when eggs were bad for you, then red wine were good for you, then maybe not, then….you get the idea. The pros and cons of all kinds of diets in American society fluctuates constantly, so I no longer worry too much about what other people think is 'good' or 'bad' for us. We feel good, are losing excess weight, and trying to be good examples for our daughter, who we hope can avoid the overweight challenges we currently face. To make us even more crazy we added to a new element to our eating habits. Big D addresses it here very well, so I won't go into details about intermittent fasting. One side effect of the fasting is that we very much appreciate and value what we eat and look forward to our food-making sessions even more. Some of our sessions resulted in Big D figuring out tortillas recently. We almost immediately decided that a good use of them was experimenting with enchiladas, using the thinnest ones he made. This recipe was enough to fill us up and sate our longing for that South Texas comfort food. Served up with some guacamole and some roasted vegetables, they are so very very good, especially right before a fasting period. I still have not figured out a substitute for refried beans, but give me some time.
Beef and Cheese Enchiladas
4 large tortillas
2 cups taco meat or leftover shredded roast
4 cups shredded colby jack cheese
1 14.5 ounce can diced tomatoes and chiles, drained
Salt and pepper to taste
Preheat oven to 350 degrees. Lay out tortillas on a flat surface. Place 1/2 cup of taco meat and 1/2 cup of cheese on each. Sprinkle with salt and pepper. Make ready a deep, rectangular loaf pan. Roll a filled tortilla until the opposite edges overlap. Place it snugly in the pan. Repeat with the remaining tortillas and fit them closely in the pan, ensuring they don't unravel when the pan is full. Spread tomatoes and chiles over the top of the enchiladas. Top with the remaining cheese. Bake for 35 – 45 minutes, until cheese is melted and edges are browning and crispy. Remove from oven and let sit for five minutes before serving.