Mojito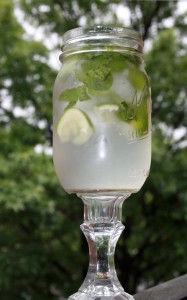 The first true mojito I had was made by a neighbor many years ago. She prepared a big pitcher as cocktails at the beginning of a dinner party. When poured over ice and muddled mint, it was a welcome refreshment on a warm Virginia evening. Now, many years later in Maryland, watching the tops of the trees sway their new heads filled with leaves, I sip a mojito. The weather is again dropping in temperature from 70 to 50 degrees as rain clouds blow in. Little B plays hopscotch while Big D lounges just inside on the couch reading a book. Yep. Life sucks and I would not trade it for the world.
Mojito
½ lime, divided into thirds
2 – 3 sprigs fresh mint
1 packet sugar or sweetener (about ½ – 1 teaspoon)
1 part rum
5 parts club soda
Ice
In a tall glass add lime pieces, squeezed, and half the mint leaves, gently torn or muddled. Add sweetener and rum. Stir mixture with teaspoon until sweetener is dissolved. Add soda and then ice to fill the glass. Imbibe. Relax.