Salmon Stuffed Mushrooms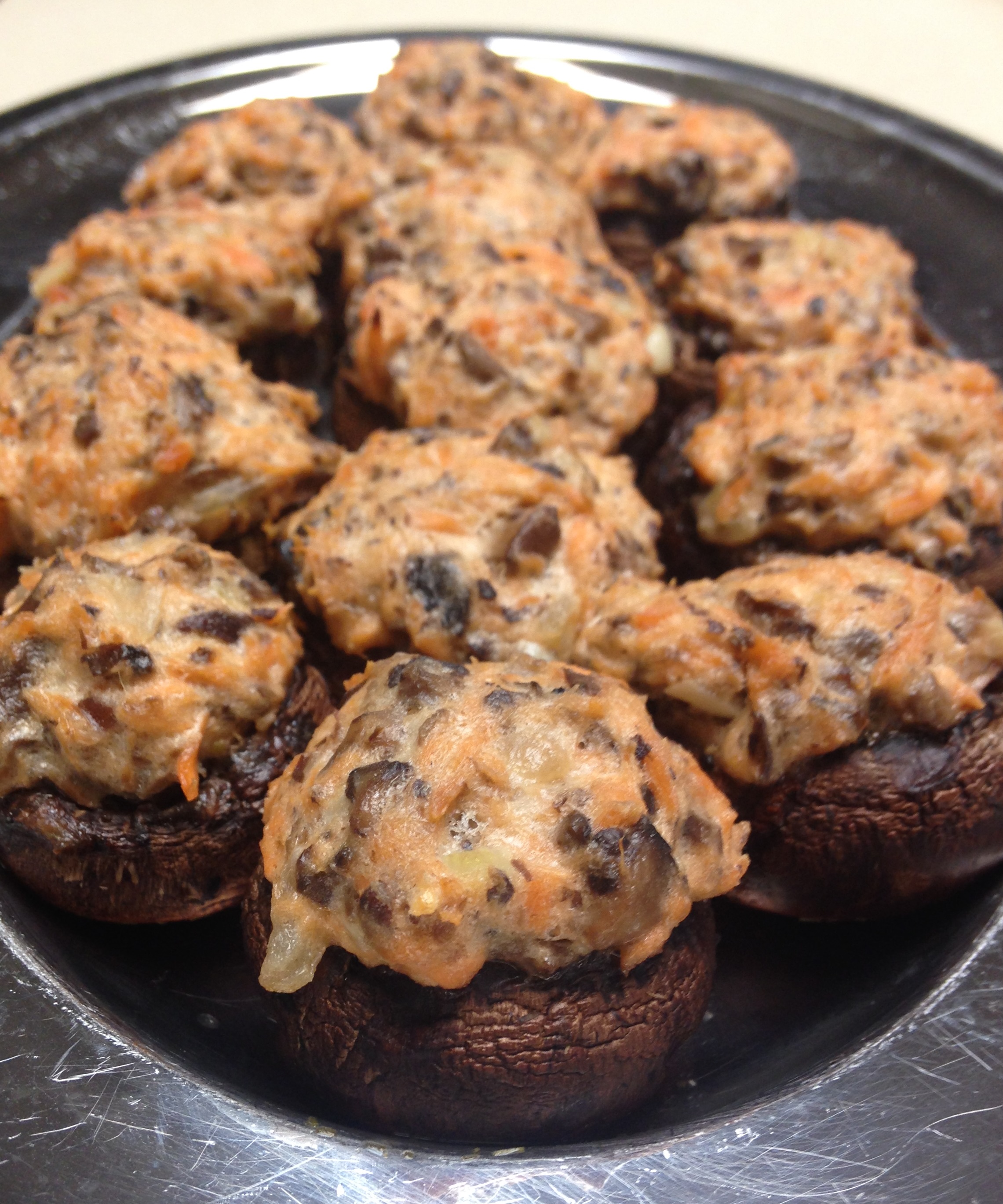 I came up with these when thinking about my in-laws. They are very special people I have known since I was about eight years old. One loves salmon, one not so much. She can usually find shrimp acceptable, but not at all with the salmon. When the salmon eater comes to dinner without the other we often do salmon. The situation came up at dinner a few days ago, and there was some poached salmon left over. There is always the opportunity to use salmon leftovers at a brunch or in a frittata, but I wanted something for dinner. Not breakfast-for-dinner, but dinner-for-dinner.
I didn't want to overwhelm the salmon with other flavors, so I stuck with ingredients used when poaching the salmon. Being surrounded by mushroom, cream cheese and egg whites the salmon did not get dried out or overcooked. Funny the way things worked out – the salmon loving in-law was also at dinner to enjoy these mushrooms! Go figure!
Salmon Stuffed Mushrooms
15-20 miniature Portabello mushrooms
3 garlic cloves, minced
1 Tbsp extra virgin olive oil
2 egg white
6 ounces poached salmon
1/2 + 1/4 tsp fresh dill
1/2  cup cream cheese, softened
1/2 cup water
Salt and pepper to taste
Scoop out stem and meat from caps of mushrooms. Chop the stems finely. In a small skillet over medium heat add the oil. When oil is hot add the mushroom stems and garlic. Stir occasionally until mushrooms have released moisture and liquid is reduced. Remove from heat. In medium bowl whisk egg white until foamy, about 15 seconds. Add to the whites cheese, salmon, 1/2 tsp dill and stir until combined. Add the stem mixture. Add salt and pepper to taste. Preheat oven to 350 degrees. Fill mushroom caps with cheese mixture. Place filled caps evenly distributed in a 9×13 baking dish. In a measuring cup mix the water with 1/4 tsp salt and 1/4 tsp dill. Stir until salt is dissolved. Pour water into bottom of baking dish. Bake in oven for 30 minutes, until mushrooms shrink and filling puffs up. Remove from oven. Place mushrooms onto platter and serve immediately.