Pizza Amore!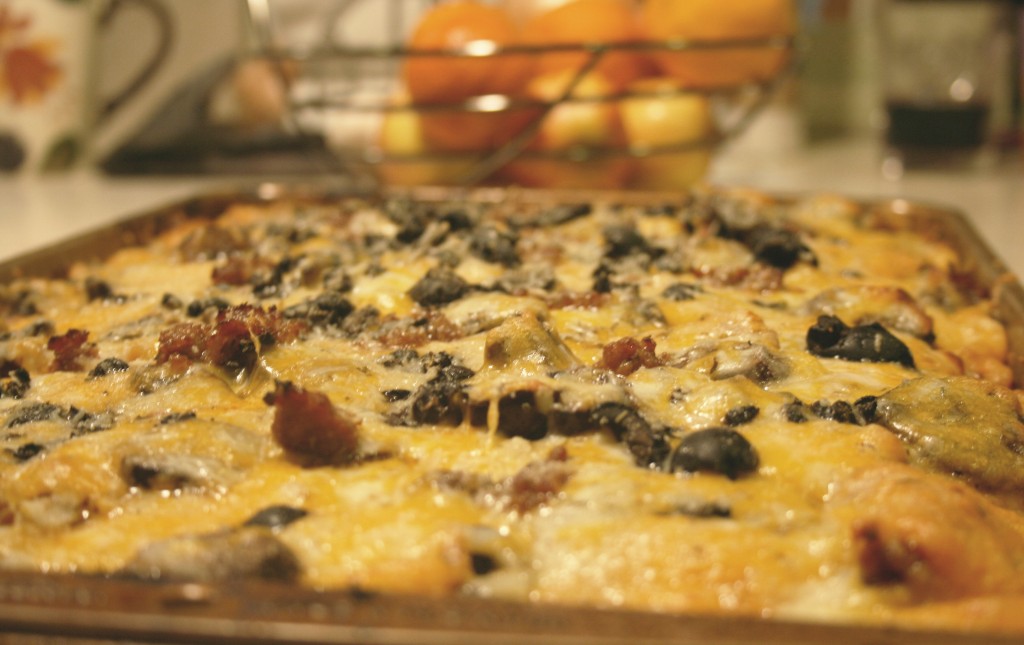 Big D and I have promised each other a pizza night for quite a while now, but things kept getting in the way. Then what do I do? I have a pizza party when out of town and he is stuck at home! Evil me! So last night we had our pizza night at home. Since Big D is sensitive to wheat and I am still working on improving my gluten free baking skills, we relied on a Bob's Red Mill mix for the pizza crust. Here at home we are not equipped with a barrage of pizza making tools (my old pizza stone finally cracked after about ten years of good service and we use an ulu instead of a pizza cutter), so we relied on a cookie sheet for the baking. Little B jumped right in, stood on her learning tower (by the way, these things are awesome for safe learning in an adult sized world!), and helped top the pizza. The result was a successful experiment with plans to tweak our next attempt, because boy to we like pizza! The miniscule imperfections were mostly our fault, but we are okay with that, because there will definitely be a next time…
Gluten Free Pizza
1 package Gluten Free Pizza Crust, prepared
1 6-ounce can tomato paste
3 links hot Italian sausage, casing removed, broken up and cooked
10 baby portabello mushrooms, sliced and sauteed in 1 Tbsp butter
3 ounces pepperoni slices
5 cloves garlic, finely diced
2 Tbsp dried thyme
4 Tbsp dried oregano
5 ounces mozzarella cheese
3 ounces Parmesan cheese
4 ounces sharp cheddar cheese
1/3 cup coarse corn meal
Salt to taste
This is what we did:
Heat oven to 425F. Sprinkle corn meal on large cookie sheet (17.25"x11.5"). With wet hands (and keep a bowl of water close by to re-wet hands) press pizza crust dough out to edges of sheet. Bake for 7 minutes without toppings. It will puff up and start browning on the edges. Remove from oven and add desired toppings. We did tomato paste, garlic, herbs, some cheese, salt, pepperoni, mushrooms, sausage, more cheese, more herbs, maybe more salt. Return to oven and bake for 15-18 minutes until cheese in the middle is melted and bubbly. Slice in squares and eat!
This is what we are going to do next time:
The crust in middle of the large rectangular pizza we made was cooked, but thick. Next time we will make two smaller, thinner pizzas (freakishly similar to the instructions on the mix packaging – go figure), knowing that the middle may rise higher than the edges. Also, the dough was substantial and held its shape when we ate it, which excited us, but we thought it needed more flavor. We plan on adding salt and herbs to the dough before we leave it to rise. We cooked the pizza for 14 minutes, but think with thinner crust it could cook longer and brown safely without burning. Yes, we were afraid it was burning and took it out early, but low and behold, it could have cooked longer.