Potato Leek Salad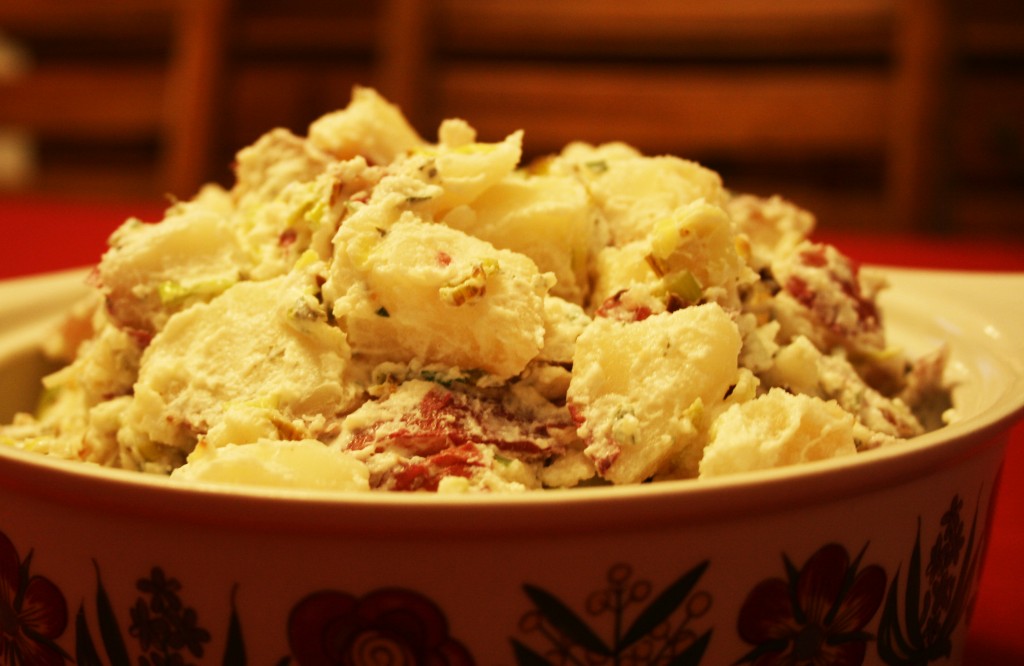 I am on a quest to eat food I love while reducing the fat and calories of said food. It is difficult because I love bread and butter and beef and pasta and cheese. Oh the cheese! I understand the concept of moderation, and practice it as much as possible, but when food is good it is so easy to be bad. Where potato salad is concerned I like the kind dressed with mayonnaise and mustard, complimenting a pile of smoked brisket or ribs. The other night I could not sleep and craved the not-so-good-for-me potato salad my dad made in big batches for years. He would smoke meats for hours and hours. When the meat was a few hours from being done he would make the potato salad so it could chill and allow the flavors to meet each other. I say he made the salad, but it was actually a group effort. My mom and I would boil the potatoes and eggs, chop the onions, bell pepper, celery and herbs. Dad would inspect our work and let us know if the chop size and quantities were just right, or we needed to work on them a little more. He would pull out the huge green glass bowl from the cabinet and put all the ingredients together, taste testing to see if it needed a little more of this, a little more of that. When he was done with his part it was again time for mom and I to swoop in and decorate the top with bell pepper and egg slices, finishing with sprinkle of paprika. I loved my dad's potato salad, but it was far from healthy. In my desire to eat healthier and not fade away from complications of diabetes, which took his life last year, I offer the following dish. It appeases my potato salad craving without as much in the way of fat and calories. Enjoy!
Potato Leek Salad
5 lbs red potatoes*
2 leeks
2 Tbsp olive oil
Salt and pepper to taste
14 oz nonfat Greek yogurt
¼ cup parsley, chopped
1 lime, juiced
2 cloves garlic, crushed
8 ounces mushrooms, diced
2 tsp dried tarragon
Cook red potatoes in gently boiling salted water until tender, about 15 minutes, depending on their size. Drain out the water, letting the potatoes cool and dry out (in the refrigerator for faster results). Separate white and green portions of the leeks, discarding the tough outer and upper dark green potions. Thinly slice white/light green sections to form rings. Heat large sauté pan to medium high. Add oil. When oil is hot add leeks. Stir regularly to prevent burning, but not so much that the leeks are prevented from browning. Sprinkle with salt and pepper to your liking. After about 10 minutes add the mushrooms and cook for 5 – 10 more minutes. Set aside to cool. Cut potatoes into bite sized pieces. In a large bowl combine yogurt, juice, garlic, tarragon, parsley and a dash of salt. If the dressing tastes a little salty do not worry – it will be spread among the potatoes which will absorb it. Add leeks and mushrooms to the dressing. Toss potatoes with dressing until coated. Refrigerate until chilled through before serving, at least two hours.
*I prefer to leave the skin on red potatoes for this recipe, but of course if you prefer they can be peeled without significantly affecting the final product. Go ahead – reject the most nutritious part of our root friends. I'm sure they won't mind…