Walnut Chicken Salad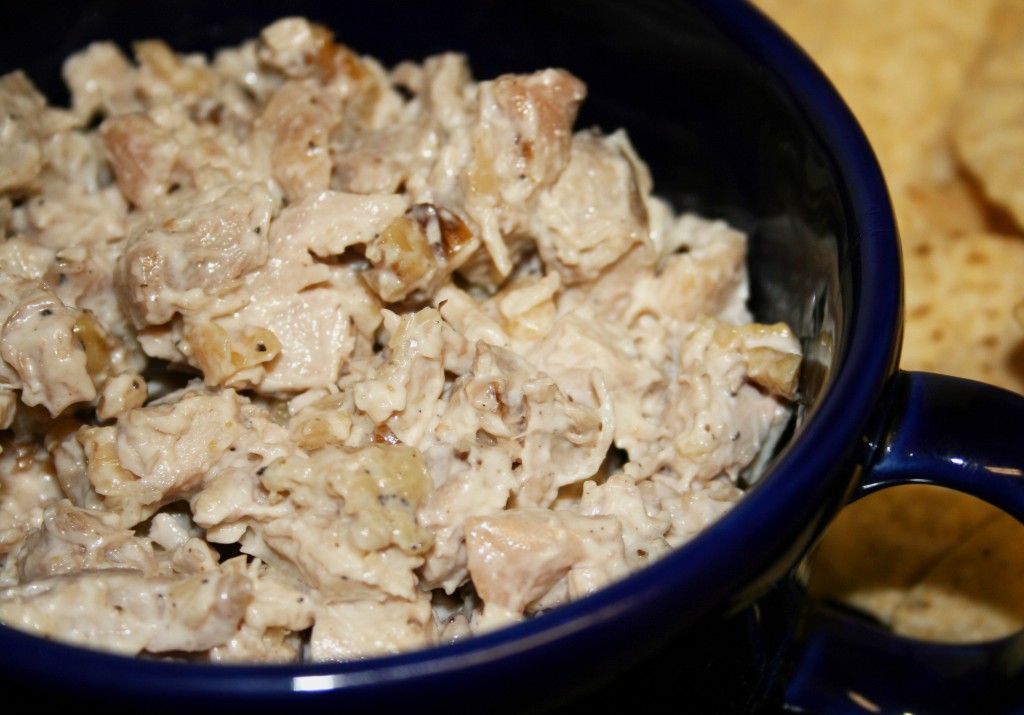 If you have ever been to Washington DC for work you probably noticed in almost every government and office building there is a little cafe on the bottom floor. These little cafes can be addicting. They usually have delicious breakfast and lunch bars that are sold by the pound, and are extremely convenient. Before going upstairs to do your business you get your little to go container and pick bits and pieces from the display of food. A little pasta salad, a bit of roast chicken, a spoonful of sauteed green beans, a pile of fruit and a couple pieces of sushi. What usually happens for me is my eyes are bigger than my stomach and I end up eating my selections for lunch over two days. Since there are little food bars in so many places they have to compete with each other, so keeping the selections flavorful and offering daily specials make you want to come back for more. This week I have meetings away from my office and for lunch I scooped up some chicken salad at one of the cafes. I expected it to be pleasant, like most food bar choices tend to be, but boy was I surprised. The light brown bits mixed with the chicken weren't pieces of fruit like I expected, but walnuts! The sweet fruity taste I expected ended up being a nutty, savory flavor that blended wonderfully with the dressing and chicken. I don't know what was actually in the salad, but I ate the rest of it slowly, savoring each bite and trying to figure out what else was in with the chicken. I think I figured out a pretty good replica of my lunchtime discovery, which is a good thing, because starting next week I will be back in my regular section of the metro area partaking from a completely different food bar. I may never have a chance to experience the surprising salad ever again. That is, unless I keep making it for myself.
Walnut Chicken Salad
4 – 6 cups chicken, cooked and diced
1 – 2 Tbsp broth retained from cooking the chicken*
¾ – 1 cup mayonnaise
1 tsp cumin powder
1 cup raw walnuts, chopped
Salt to taste
In mixing bowl combine mayonnaise, cumin and walnuts. Add some of the broth to thin out the mixture to the consistency of thick salad dressing. Add chicken and toss with dressing. Chill overnight before serving.
*If you use the express route and dice up a quick grocery store roasted chicken, just scoop up some juice from the container, as long as it is watery and will help thin out the dressing.