Autumn Apple Chicken Soup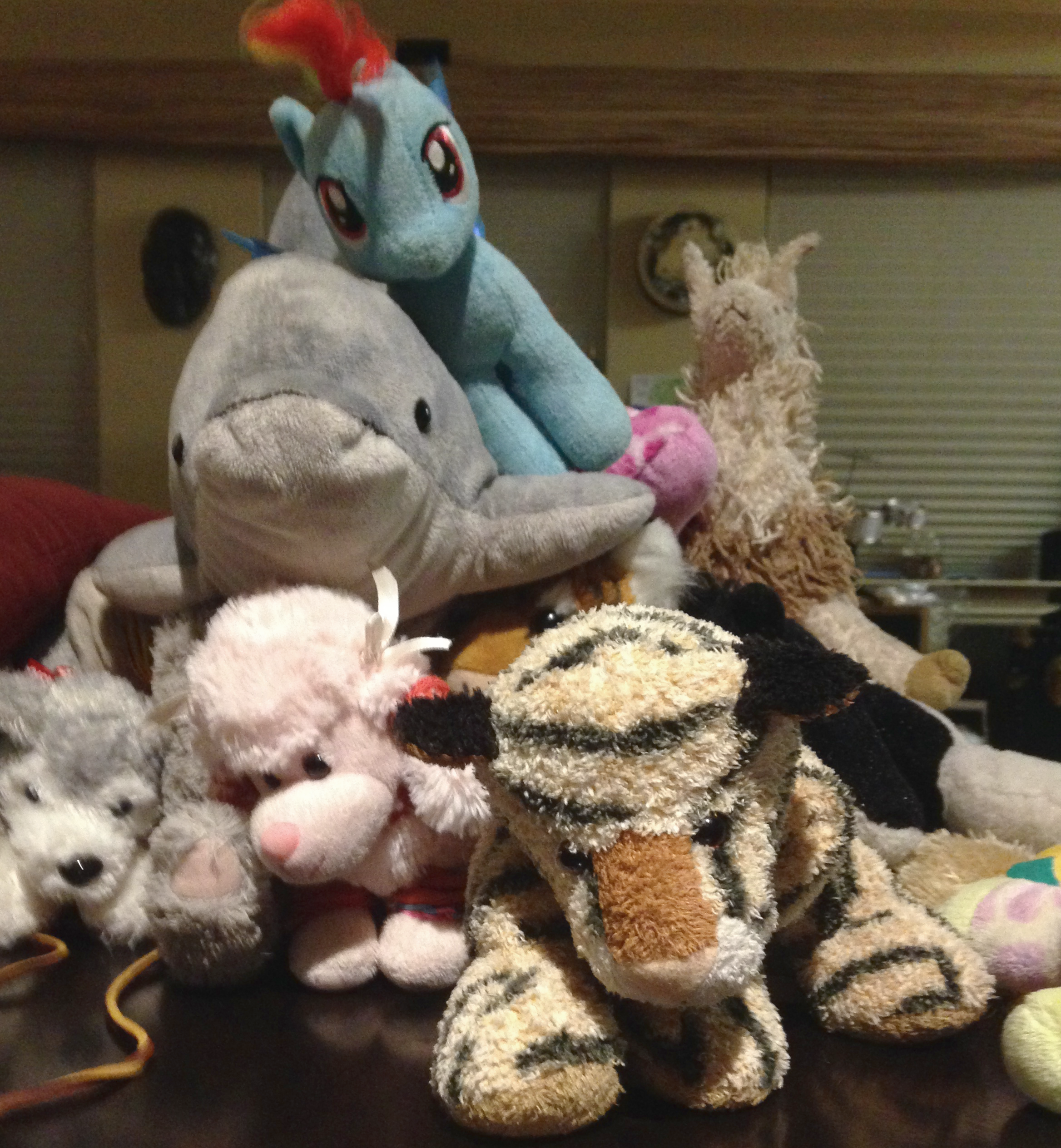 Although it is still in the mid-80s and humid here in Texas, my time on the back porch on cool mornings has given me a hankering for chicken soup. After consulting Little B on the contents she desired, specifically apples, I was inspired to tweak a previous snappy and successful chicken soup recipe to honor autumn with apples and some root vegetables. It was a great way to use the meat and juices from half a spatchcocked chicken. The apple, corn and carrot gave the soup a pleasant sweetness while warming and filling our bellies.
This soup can also be made with a traditionally roasted chicken and juices, or some cooked up especially for the soup, along with chicken stock.
You may notice that the the picture has nothing whatsoever to do with soup. That is because I never got a picture of the soup before Little B ate it up. Big D and I each got at least a bowl before Little B at three bowls per meal before it was gone. I substituted soup pictures with a picture Little B took of her lovies (and the leather strip our cat loves killing) after having three bowls of soup for dinner. Enjoy!
Autumn Apple Chicken Soup
2 Tbsp extra virgin olive oil
2 carrots, chopped
1 medium yellow onion, chopped
1 turnip, chopped
2 celery stalks (plus heart and leaves if available)
5 cloves garlic, chopped
1 Fuji apple with skin, chopped
Corn stripped from two cobs (or 1 can unsalted corn)
1/3 head cauliflower, chopped
8-10 fresh basil leaves
1/2 cup fresh lemon thyme leaves
1/3 cup fresh oregano leaves
1/2 bunch fresh parsley leaves
1 Tbsp sea salt
1 14.5 ounce can diced tomatoes
1 pound chicken meat, dark and white mixed (from about half a roasted chicken)
4 cups chicken stock, or juices from the roasted chicken plus 3 cups water
In a 3 quart stock pot over medium high heat add oil. When oil is hot (in about 30 seconds) add garlic, onion, celery and carrot. Cook, stirring every few minutes until onions become transparent. Add cauliflower, turnip, apple and corn. Stir and continue to cook for about five minutes.
Add diced tomatoes with juices, chicken and chicken stock (or chicken juices plus water). Stir in basil, thyme, oregano, parsley and salt. Bring soup to a boil.
Reduce heat to low. Cover and let simmer for at least one hour. Taste and add salt and pepper to desired level. Serve immediately or let cool, then store in an air tight container.