Caprese Salad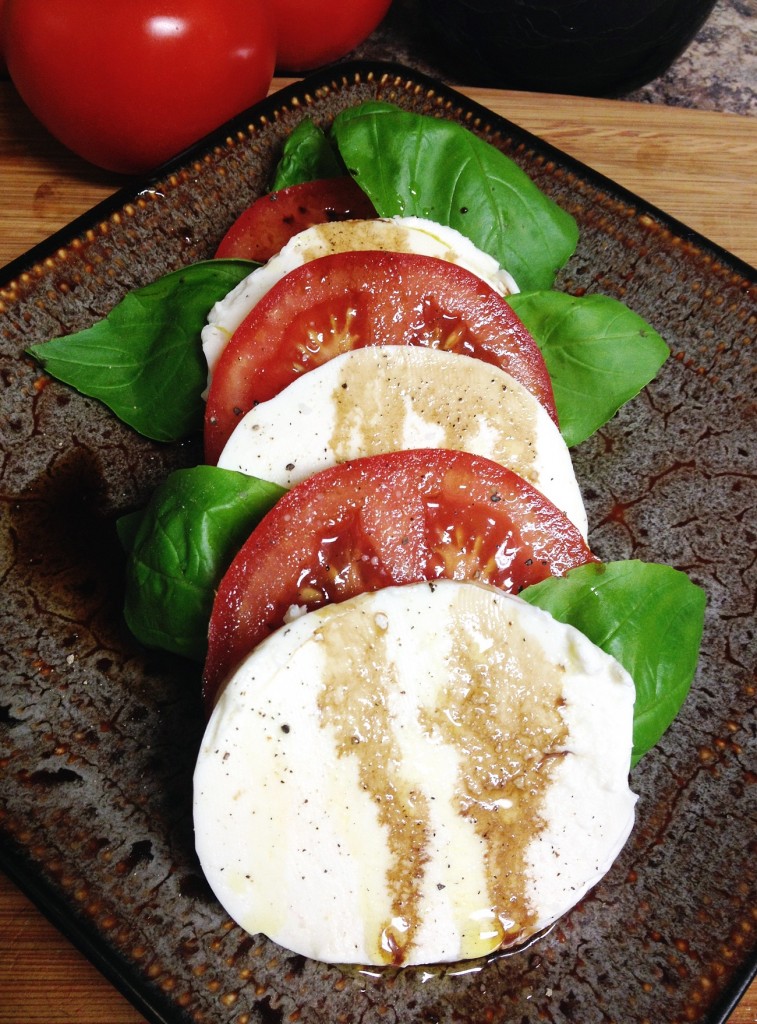 Basil always reminds me of Italy. In 2004 Big D and I explored Rome and Tuscany with another couple. There were, as always, some ups and downs during the trip. Big D's luggage was not found until halfway through the trip, the pool at our villa was too darned cold for midnight skinny dipping, and cheap grappa is nasty when imbibed warm and straight. The luggage was finally found and took forever because the villa was not easy to find and the local washer/dryer machine was not really a dryer. No solution about the pool, except for some teeth chattering. The grappa was resolved with ice and mixing it with Coke Light (Italy's version of Diet Coke). Very potent. The reminder basil gives me relates to the week we spent at the little villa. It had three bedrooms upstairs, a dining area and living area downstairs. There was also a lovely, large kitchen. Right outside the kitchen was an herb garden. Even being early summer, it overflowed with rosemary, oregano, thyme, parsley and of course basil. Most nights Big D and I would walk to the co-op in the nearby village, pick out fresh beef and vegetables, walk home, pick a collection of herbs and cook cook cook! The couple we traveled with often went out to eat at one restaurant or another, so we had the place to ourselves for the night. It was a wonderful, quiet time of day after exploring Siena, Pisa, Florence, Rome…. When I smell basil I think of the quiet evenings, fresh steaks and veal, and another, funny and memorable element – frogs croaking in the pond below our bedroom window all night. Believe it or not it was like an elixer, lulling us to sleep. On to the salad. I almost called it insalata caprese, but decided not to because of the – dum dum dum – basalmic vinegar. I loved salad when made with fresh ingredients and high quality olive oil, but never recall seeing the basalmic vinegar offered in Italy, only in the US. My research was consistent. Insalata caprese is typically seasoned with salt, pepper and olive oil.
Caprese Salad
1 large red tomato
1 ball fresh mozzarella
1 large stem fresh basil
Extra Virgin Olive Oil
Aged Basalmic Vinegar
Salt and Pepper to taste
Slice tomato and mozzarella into slices of equal thickness. Sprinkle slices with salt and pepper. Layer slices with leaves of basil. Sprinkle salad with olive oil and basalmic vinegar. Serve immediately.