Double Chocolate Cupcakes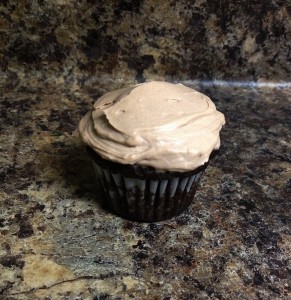 These cupcakes came from the mouth of my babe, Little B. As with our strawberry concoction from a while back, she got a baking hankering and we followed it through. Little chocolate cupcakes with chocolate frosting that don't have any wheat or sugar. She is adamant about those two points, which meant we got to create a new recipe "with only really good tasting ingredients Mommy. Don't forget they have to be really good" she tells me. Well, they are really good, and buttery and rich. Also a chance to crack eggs and spread frosting, which are always good things. Really good things.
Double Chocolate Cupcakes
Cakes
6 eggs
½ cup butter, room temperature
1 tsp vanilla
¼ cup coconut flour
½ cup golden flaxseed meal
¼ cup cocoa powder
1 tsp pure stevia powder
1 tsp baking soda
½ tsp sea salt
1 tsp ground cinnamon
Frosting
1 8 ounce block cream cheese, room temperature
½ cup butter, room temperature
½ tsp vanilla
¼ cup cocoa powder
½ cup granulated erythritol
Preheat oven to 350 degrees. Combine eggs, butter and vanilla in a medium bowl. Whisk together until combined. In a separate bowl combine flour, meal, cocoa powder, salt, baking soda, cinnamon and stevia. Add dry ingredients to egg mixture and stir until well combined. Divide batter among a lined 12 regular sized or 24 mini muffin pan. Bake for 15 – 18 minutes until tops are firm. Remove from oven and let cool completely. For the frosting add the cheese, vanilla and butter in a medium bowl. Whisk until combined. Add cocoa and erythritol and continue whisking until combined. Chill a few minutes if it comes out thin. Spread frosting over cupcakes. Store cupcakes in the refrigerator until serving – mostly to keep the frosting firm, otherwise they can sit at room temperature.