Cauliflower Fritters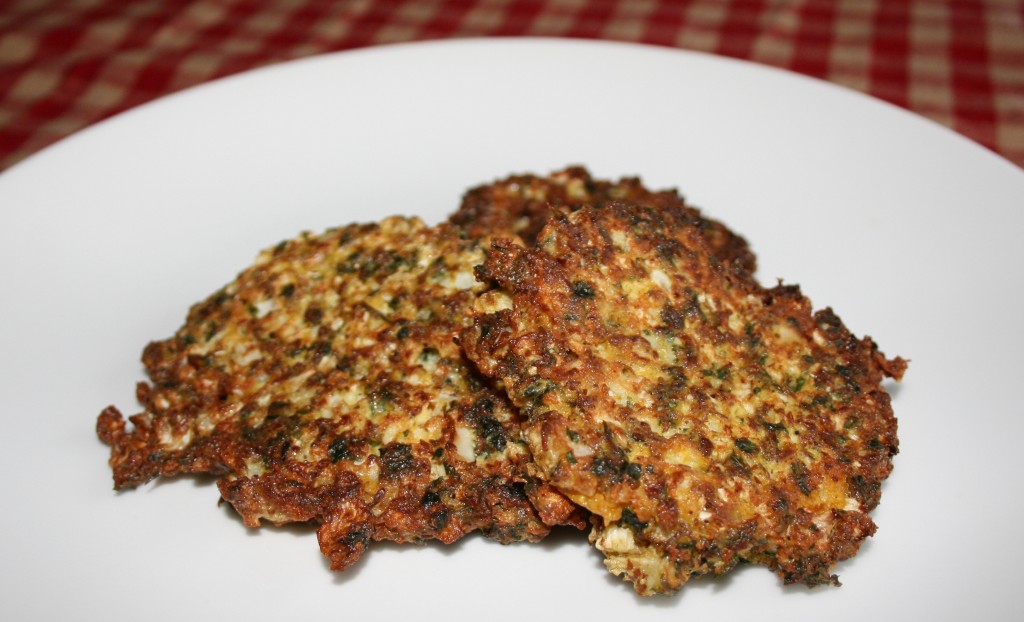 When I make it a point to avoid processed grains and starchy carbohydrates in my diet I seem to have more energy and lose weight. I also start to crave vegetables. Of course a loaded baked potato or breaded mushrooms don't really fit the balance I want. Ideally I would crave steamed veggies with some lime juice and herbs, but the reality is I want substance and texture and flavor. These fritters help me balance the need for hearty high fiber veggie variety and a low carb energy source. I was inspired by the recipe here, but tweaked it to make chunkier fritters held together by flaxseed. Low carb and hearty. Yum!
Cauliflower Fritters

½ large head cauliflower
2 whole eggs
¼ cup flaxseed meal
¼ cup fresh parsley, finely chopped
1 tsp lime juice
½ tsp salt
¼ tsp black pepper
1 tsp fresh thyme
½ tsp ground cinnamon
¼ tsp chili powder
½ tsp cumin
½ tsp tumeric
pinch cayenne pepper
½ cup olive oil or fat of your liking
Cut cauliflower into little florets and add to the bowl of your food processor. Process on pulse until cauliflower has texture of large grains of cracked wheat*. In a large mixing bowl add the rest of the ingredients and mix until well combined. Add the cauliflower and combine until well coated. Heat a splash of olive oil in a frying pan and add about ¼ cup of the mixture for each fritter. Using a large spoon droop a mound about the size of a baseball into the oil. Cook three or four fritters at a time for 2 – 3 minutes on each side, until golden brown, then keep warm while you cook the remaining fritters.
*I just chopped them up a bunch, resulting in big and little chunks instead of cracked wheat chunks. They were yummy all the same