Chef Salad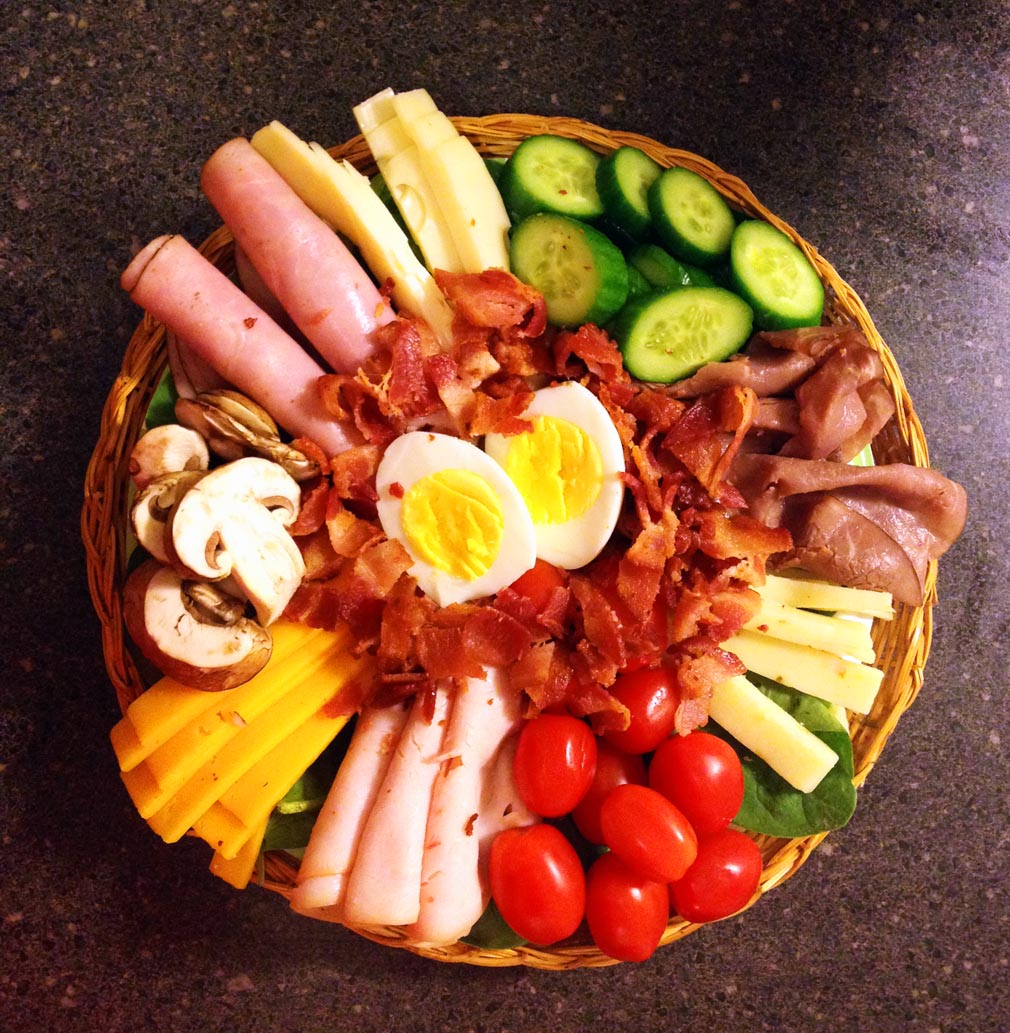 I am avoiding a serious subject. A hot oven. I try to avoid it as much as possible in the Takoma Kitchen.  For one, it is an electric oven, which heats up very differently than gas, and regardless of electric or gas, it also makes our little place pretty warm. Here is one of the concoctions I do that does not take much stove or oven heat. The original chef salad is very American, originating in Pennsylvania or New York, depending on which claims you believe, first created in the 1930s or '40s. Throw a few types of meat and cheese on a plate with a boiled egg and dressing and there you have it, a salad with a bunch of stuff on it so you don't have to make a bunch of choices. I like the approach on a hot summer evening, and the reduced exposure to even more heat is a plus. Technically, the bacon and eggs require heat to prepare, but they are often left over and already in the fridge. That, or I send a heads up message to Big D and he takes a break from work and cooks up a pan of rashers while boiling some eggs 'the way grandma did them', with the shells practically falling off in the pan. Dinner can be custom made on each plate and put together pretty quickly – Little B gets eggs, bacon, cucumber and tomato, while Big D gets an extra pile of meat with ranch dressing, and I get a little bit of everything, especially the pepper jack cheese.
Chef Salad
6 ounces thin cut roast beef
6 ounces thin cut roast turkey
6 ounces thin cut virginia baked ham
4 ounces sliced swiss cheese
4 ounces sliced medium cheddar cheese
4 ounces sliced pepper jack cheese
8 ounces grape tomatoes
2 ounces baby portabello mushrooms, sliced
2 mini cucumbers, sliced into coins
2 – 4 medium boiled eggs, sliced in half
6 slices bacon, cooked and chopped
8 ounces raw baby spinach leaves, rinsed and dried
4 – 6 ounces salad dressing (traditionally French or Thousand Islands)
On two large dinner plates divide the spinach and spread evenly. Slice cheese into ¼ inch wide strips. Roll each slice of meat individually. Alternate cheese strips and meat rolls in a circle on top of the spinach bed.  Arrange the mushrooms, tomatoes and cucumber coins between the cheese and meat. In the center of the salad place the egg halves. Sprinkle bacon over top of salad. Serve immediately after drizzling with preferred dressing.