Non Vodka Chicken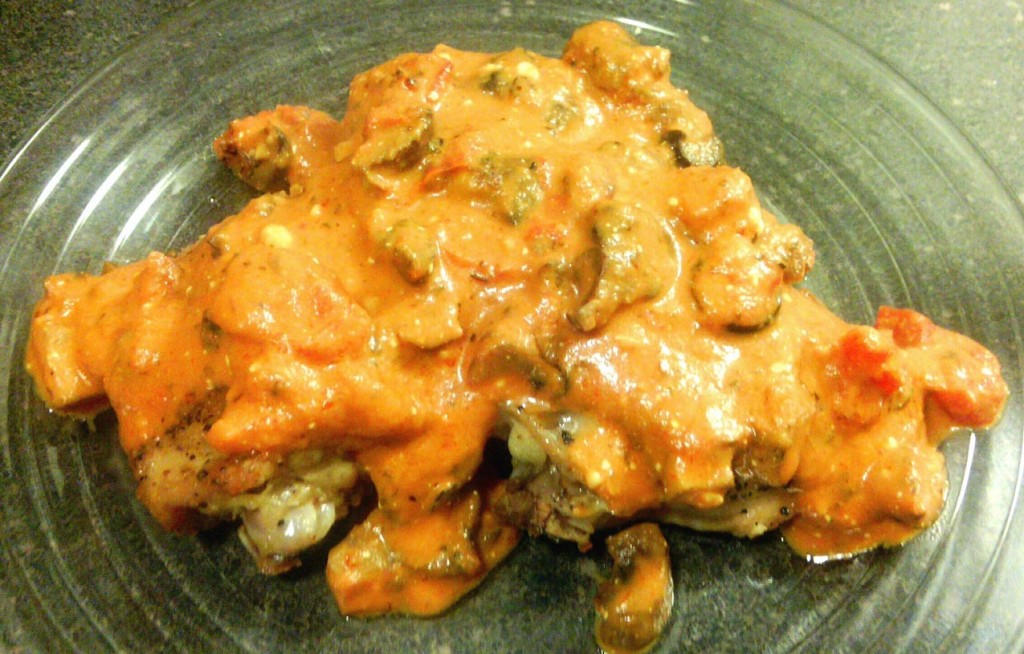 I have been absent for a bit, and so has chicken from my blog. I am always trying to find variety, because chicken is always chicken, and absence makes the heart grow fonder, right? Busy work and busy weekends made for a quiet kitchen lately, and the repeating of old, reliable recipes. Also, Big D has been on a culinary swing while I go about other things. Work is busy, and spending a bunch of time outside in the heat makes me groggy, so hanging out reading books to Little B is much more appealing than a hot oven or stove. This recipe I almost called pizza chicken, because when Big D first took a bite he said it reminded him of pizza. Did the same for me! I was inspired by my hankering to inhale a bowl full of pasta with vodka sauce. The thing about vodka sauce is not necessarily the vodka, but what it does to the flavor of the tomatoes. The vodka, when used, actually soaks into the tomatoes and enhances their flavor with a tart tanginess. The alcohol itself evaporates. If you have had the sauce before you know what I mean. If not, then imagine a mild bloody mary – a skidge of pepper and hot sauce – not to ferocious, but an extra bite beyond plain tomato. I decided to try to find the same flavor as the vodka sauce, but without the vodka. What else could I do with a hankering for vodka sauce while experiencing an absence of vodka? It was my own fault. I used the last of it from our stash to make a Greyhound (vodka and grapefruit juice with a twist). A little bit of this, a little bit of that resulted in the sauce taste I was looking for to go on top of chicken, and then I made it chunky, a la pizza. Yum!
Non Vodka Chicken
1 Tbsp butter
8 ounces mushrooms, roughly chopped
1/2 tsp sea salt
1/4 onion, finely diced
4 ounces chopped black olives
3 cloves garlic, minced
1 – 14.5 ounce can fire roasted diced tomatoes
1 – 15 ounce can tomato sauce
1 Tbsp dried parsley leaves
2 tsp dried oregano leaves
6 – 8 chicken thighs, skin trimmed, but some left on meat
4 ounces cream cheese
2 – 3 tsp Crystal hot sauce
In medium sauce pan over medium high heat melt butter. Add mushrooms, salt, olives and garlic. Saute for about five minutes until mushrooms and garlic soften and butter browns a bit. Add tomatoes and tomato sauce, parsley and oregano. Stir and lower heat. Let simmer for about 15 minutes. While sauce simmers place chicken thighs in frying pan over medium high heat, skin side down. When skin is crispy flip thighs, turn down heat to medium and cover. While chicken cooks finish the sauce. Add cream cheese to the sauce and stir occasionally until cheese is melted and sauce is smooth (except for vegetable chunks, of course). Sprinkle one to two teaspoons hot sauce and stir. Taste to confirm there is a tang in the sauce, but not necessarily a bite. If no tang, then add more hot sauce. Simmer for about 15 more minutes. When chicken is cooked through and juices run clear, remove from heat and let rest. Remove chicken from pan and place on serving dish. Pour sauce over chicken and serve immediately.