Cilantro Pesto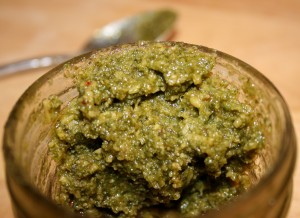 We had a bundle of cilantro sitting in a water jar on the counter. Since I kill it every time I try to grow/regenerate it, I tend to overstock on it when I find it fresh cut in the store. It was starting to look sad, even with its water, which meant it needed to be used pretty soon. The stuff goes from perky to slimy and brown pretty quickly when it starts to go, so I had to act fast. Big D was grilling steaks for dinner, so what could I do with cilantro. Hmmm….cilantro, steaks, cilantro, steaks….I know! I remembered a cilantro sauce from a restaurant I went to years ago in Denver, I think it. Maybe it was Boulder. Instead of basil they used cilantro for pesto. I decided to whip up some cilantro pesto to drizzle on top of the wonderfully seared rare steaks. It helped me use the cilantro instead of leaving it to go bad, and I could not imagine it being uncooperative with the grilled meat. I was right, I must say. The pesto worked great with the steaks, and the leftovers also worked great on pork loin. Another plus was the pesto kept much better in an airtight jar in the fridge compared to un-pesto cilantro would have done sitting on the counter. Double score!

Cilantro Pesto
1 bunch fresh cilantro, most thicker stems removed
1/4 – 1/3 cup extra virgin olive oil
4 cloves garlic
1/4 cup pecan halves
1/4 cup grated Parmesan cheese
1/2 jalapeño, seeds removed
1/2 tsp sea salt
1 Tbsp lime Juice
Add all ingredients except oil to blender or food processor. Purée until blended, then slowly drizzle oil into mixture. Scrape sides and blend more until everything is about the same size. Use immediately or chill until about an hour before serving. Room temperature is the best for serving.