Eggy Breakfast Muffins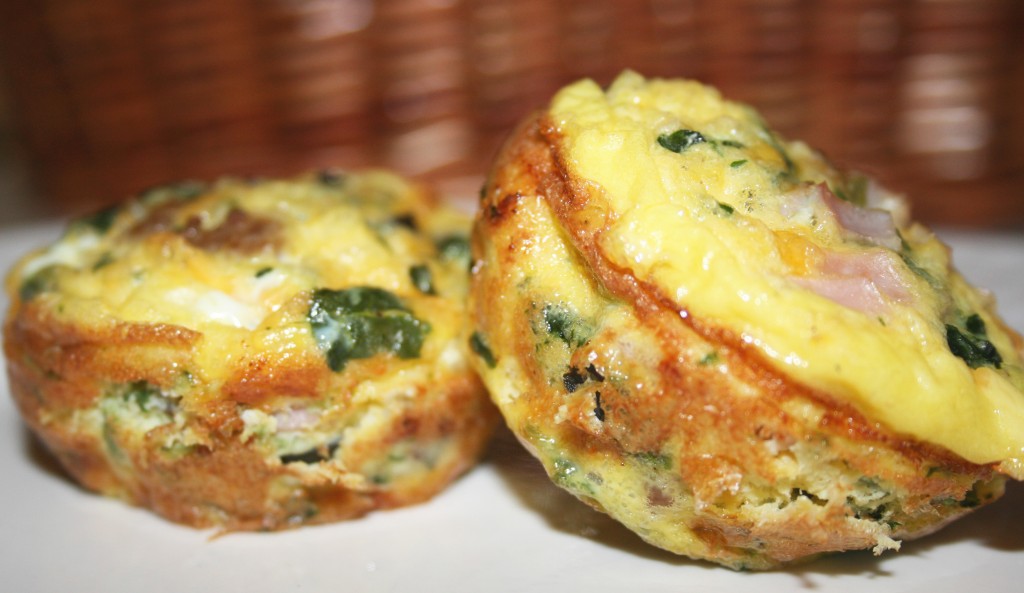 Eggs are quite quick and easy to cook. I love eating them in all ways and forms of preparation. My favorite of all time is Eggs Florentine with classically poached eggs, barely wilted spinach and crisp home fries on the side. When I was growing up our family Sunday brunch usually fell near one of two extremes. The first was a champagne brunch at the club, where I was summarily denied anything more than a sip of champagne or a soaked strawberry until I was 'of age'. The second was a feast at home after we returned from church and changed into our play clothes. My mom and dad often split the cooking. Me and my brother set the table and stayed out of the way. The kitchen was square and they did a little dance moving between the sink, stove and fridge. While mom made fruit cups dad would whip up waffle batter and crank out a pile of them a foot high. The waffle iron made huge waffles with little divots. I much prefer them to the big divoted belgian waffle irons. Other times he made SOS (mildly put, creamed beef on toast) or mom made drop biscuits while dad cooked up the most perfect fried eggs. He would gently fry them in oil. He never flipped them, but splashed oil from the pan over the top to cook the upper half. We also often set the table with boiled egg cups – the eggs were boiled just enough to cook the whites and leave most of the yolk runny. The pointy end went in the cup and we snipped the top off, using little spoons that just fit into the egg to scoop out buttery bites.
Growing up Catholic we observed the tradition of fasting before Mass. Even though we went to the first service at 8:30, it still meant the earliest we would eat at home was about 10:00. I was always famished by then, since the rest of the week my stomach received breakfast by 7:30. When my stomach is grumbling first thing in the morning it is almost torture waiting for the yummy bits to cook that accompany eggs – the bacon or potatoes to crisp, the sausage patties to sear, the making of Hollandaise sauce or the baking of biscuits. One solution to my desire for instant gratification is to resort to carbohydrate loaded, oily fast food breakfast sandwiches. Another is to buy those frozen things that heat up fast, but are rubbery on the outside and cold on the inside. My third and favorite solution is baking little quiche-like 'muffins' – they can be eaten immediately, or pulled from the fridge or freezer and microwaved while retaining their moist and savory goodness. The content of each batch of muffins I make varies and is directly impacted by the content of my kitchen. They always have eggs and cheese, but the meat and veggies change constantly – leftover roast chicken and broccoli are popular additions, as are grilled pork chops and potatoes. Muffins with salmon, dill and asparagus are wonderful. On top of everything else, Little B adores cracking eggs, whisking them into oblivion and stirring them up with the filling. I rarely deny her an egg experience.
Eggy Breakfast Muffins
9 eggs
6 ounces frozen spinach
1 cup cheese, grated
4 ounces ham or cooked sausage, small dice
1/4 cup black olives, chopped
Salt and pepper to taste
2 tsp dried parsley
1/2 tsp garlic powder
1/4 tsp onion powder
Heat oven to 375F. Grease a 12-hole muffin pan. In the microwave cook the spinach for about two minutes in a covered dish. When it cools squeeze as much liquid out of the spinach a possible. Chop finely. In a medium sized bowl add the cheese, meats, spinach and olives. Stir together. Crack all eggs into a separate bowl. Add salt, pepper, garlic, onion powder and parsley. Whisk the eggs until whites and yolks are well blended. Pour egg mixture over the cheese, meats and vegetables. Stir everything together until all is coated with egg. Spoon mixture into muffin pan until it is evenly distributed – they holes should be 2/3 to 3/4 full, depending on pan size. Bake in preheated oven for 15-20 minutes until they start to brown on top. Remove from oven and let muffins cool in pan for about five minutes. Run a knife around the edge of each round to separate them from the pan, then gently lift them out onto a serving dish. Serve immediately. They also do well heated up in the microwave after being refrigerated or frozen.