Creamed Cabbage Collard Mix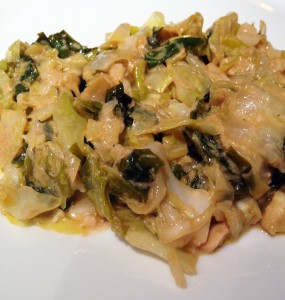 Lots of nights I open the fridge to figure out what needs to be cooked sooner rather than later, then I have a guide for our evening meal. Other times I go out on our balcony to see what needs to be harvested from our little container garden to use as a guide. This dish was a result of both guides. There was a partial head of cabbage in the fridge, and the collard greens on the balcony needed to be thinned so the smaller, younger leaves could thrive. The savory combination was a wonderful complement to a spicy meat dish and added the requisite fiber to the meal. I encourage you to grow your own garden, keep your fridge stocked with fresh vegetables and let them inspire what lands on your dinner plate. Cook well, eat well!
Creamed Cabbage Collard Mix
1/2 medium head cabbage, roughly chopped
2 – 3 cups collard greens, stems removed
1/2 cup mayonnaise or 1/4 cup heavy whipping cream
1/2 tsp chili powder
Salt and pepper to taste
Heat a large frying pan to medium-high heat. Add mayonnaise or cream and chili powder. Heat until mayonnaise is melted or cream is bubbly. Add cabbage and greens. Sprinkle generously with salt and pepper. Stir until vegetables are coated. Let cook for about ten minutes, stirring every few minutes until cabbage and greens are wilted, but still slightly crispy. Remove from heat and cover until time to serve.