Fennel and Olives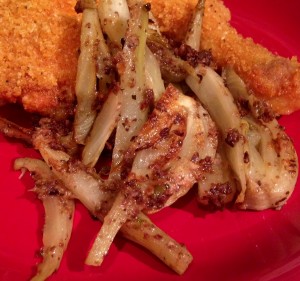 I was at a loss for words. The frondy green topped vegetables with the fat white bases? What the heck are they called? Why can't I remember? I rushed to the store after work to begin the hunt. Yes, I could look it up online and get an immediate answer, but was enjoying the wonder and the wait. After getting to the store my eyes were hungrily searching the mass of green in the produce department. There they were! And they were actually labeled! Ahhh. Satisfaction – fennel! My mind was sated and my mouth was watering. We were making some crispy oven chicken for dinner and could do with a strong side dish. The fennel, with it's hint of anise I thought would go well with some tapenade and cheese. The more subtle taste of the chicken went well with the powerful fennel with briny olives.
Fennel and Olives
2 large fennel
2 Tbsp avocado oil
Salt and pepper, to taste
1/2 cup tapenade
2 Tbsp parmesan cheese
Remove green stalks from fennel bulbs. Slice bulbs in a large julienne. In a medium sauté pan over medium high heat add the oil. When oil is hot add the fennel. Sprinkle with salt and pepper. Toss every two minutes until fennel is browned and softening. Add tapenade and cheese, stirring until it coats the fennel. Cover pan and lower heat to medium. Cook for another five minutes, until preferred tenderness. Remove from pan and serve immediately.