Stuffed Flank Steak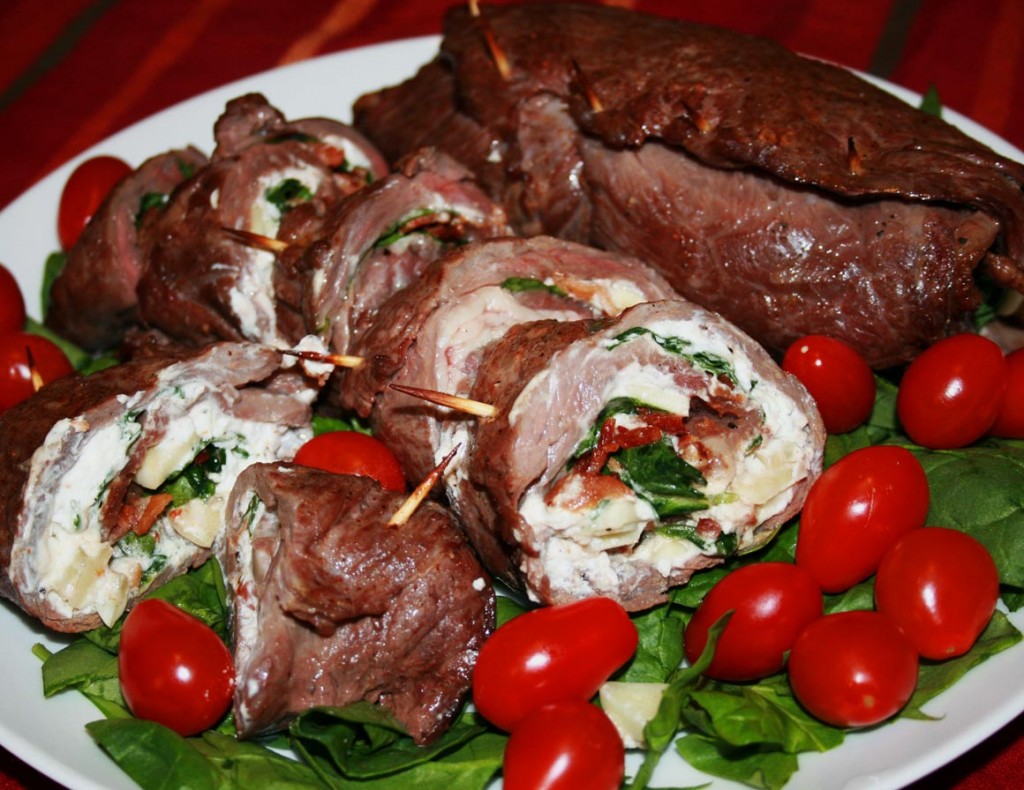 Flank steak, also known as skirt steak, used to be cheap. It was a slightly tougher cut of meat that could be marinated and grilled or broiled, cut up and served south Texas style as fajitas. It still can, but the cheapness is gone. I don't know what happened. Maybe, like buffalo wings, it got popular and so the price hiked. Did price hike because of demand, or the mere fact the price was higher, and so demand increased? I guess I could go back to my college business textbooks and try to dig deeper, but not gonna do it. The point here is I have turned the once cheap fajita meat into a fancy looking main dish that went POW! Of course, anything with goat cheese tickles my fancy, but the cheese combined with the steak resulted in a tangy, juicy roll. I made a couple and ended up freezing one, and I discovered it froze well, too! Double POW! You can still make old, reliable fajitas with flank steak, but if you want to get a little fancier, you definitely can!
Stuffed Flank Steak
1 – 2 large flank steak (1 ½ – 2 pounds total)
8 ounces bacon
½ cup red onion, finely chopped
4 garlic cloves, sliced
4 – 5 ounces goat cheese
1 Tbsp fresh oregano leaves, coarsely chopped
8 ounces baby spinach leaves
8 – 12 wooden toothpicks
Preheat oven to 400 degrees. Slice bacon into ¼ inch strips. In a medium skillet over medium heat  cook bacon until it begins to release fat. Add onion and garlic and continuing to cook until garlic slices begin to brown. Transfer bacon, onion and garlic to paper towel to soak up extra grease. Lightly salt and pepper the steak. Place steak between two layers of cling wrap. With a tenderizing mallet or side of a regular hammer flatten steak until about ¼ inch thick. Remove the top layer of wrap. Spread the goat cheese on the steak, leaving about ½ inch border around the edges. Make a layer of spinach leaves on top of the cheese. Sprinkle the bacon, garlic and oregano on top of the spinach. Add another layer of spinach. Sprinkle spinach with a little more salt. To roll the steak, begin by lifting the wrap edge on the long side of the steak, pull the steak off the wrap and begin curling it over the spinach. Continue rolling it, squeezing slightly to keep the roll an even size along the length. When completely rolled, place the seam facing up. Impale the roll every inch along the seam with toothpicks. If it is thin enough on the ends, weave a toothpick across them to seal it – like you would a straight pen through cloth. Place the roll in a shallow baking dish or baking sheet covered with foil. Bake for 20 minutes. Turn oven temperature down to 350 degrees and cook for 20 – 30 minutes longer, depending on thickness of steak and desired doneness. I like it more rare, so the shorter cooking time appeals to me.