Hero Sandwich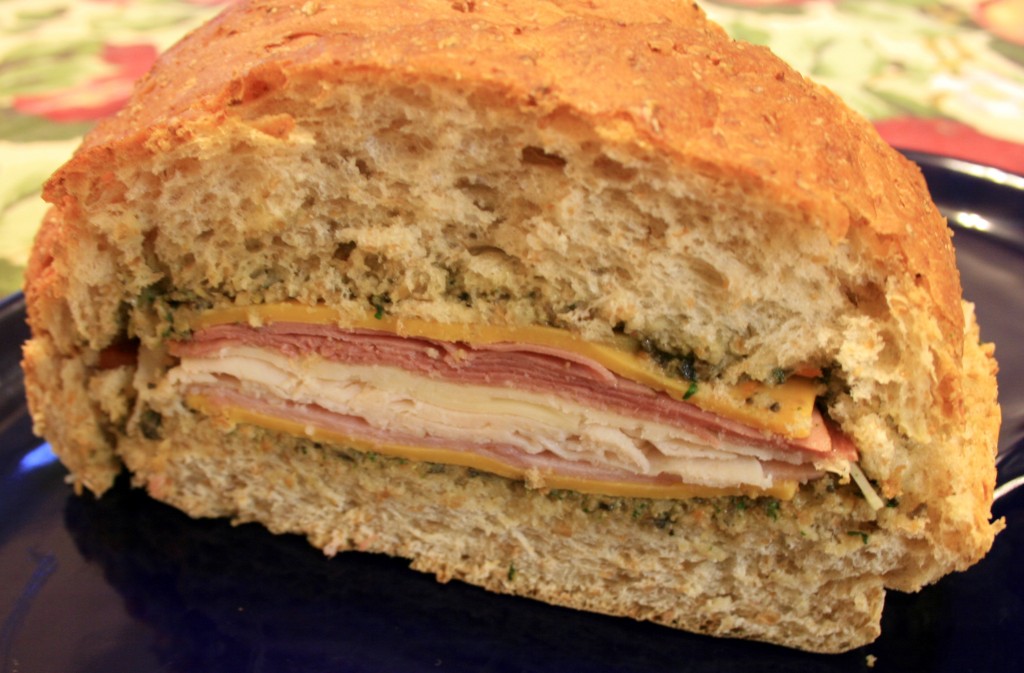 Hero, hoagie, sub…whatever you call it, it is a sandwich with sub-stance of hero-ic size. Heh. I love hero sandwiches, which come and all shapes and sizes, depending on where you are in the country. Personally like my bread/filling ratio about 1:1, but often I find bready versions with a sad amount of filling, so I would feel inclined to pass on such a sad sandwich. For this one I wanted to make sure it was hearty. My friend hurt herself and was laid up for a while. With three hungry sons I felt the need to take over a pile of food. One thing I thought her men (and she) might like was a sandwich piled with meat and cheese. Here is what I came up with, inspired a bit by the muffaletta sandwiches I adore in New Orleans. Yes. They make more than Po' boys down there. These are quick to make and great for parties and picnics. Have fun at the end of summer and make one for your clan!
Hero Sandwich
1 loaf French bread (white or whole wheat)
1 ½ cups black olives
1 ½ cups green olives with pimentos
3 cloves garlic
1 Tbsp extra virgin olive oil
8 ounces thin sliced salami
8 ounces thin sliced ham, honey or smoked
8 ounces thin sliced roast beef
8 ounces thin sliced turkey, smoked or roasted
6 ounces thin sliced Provolone cheese
6 ounces thin sliced cheddar cheese
6 ounces thin sliced Swiss cheese
6 – 8 long toothpicks
In food processor or blender add olives, garlic and olive oil. Pulse until it is a rough paste, adding a bit more oil if needed. Cut loaf in half lengthwise, leaving one long edge uncut, like a hinge. On the bottom and top halves of the loaf spread half the olive paste, making sure it gets spread all the way to the edges. Begin layering meats and cheeses, starting with meat – beef, cheddar, ham, Swiss, turkey, provolone, salami. Don't be afraid to pile it on – you can smoosh it down later. If you are ready to serve, add any optional ingredients you like*. Close the sandwich and press down. Add toothpicks so they will be in the middle of each slice (about eight pieces). With a sharp knife or bread knife cut slices 1 – 2 inches thick. If you are not going to serve immediately, wrap the sandwich tightly in cling wrap and refrigerate, then when ready to serve, unwrap, add the toothpicks and slice.
*Optional ingredients (added right before cutting and serving) can include tomato slices, onion slices pickle slices and lettuce. Do not add these ingredients until right before serving, or offer them separately. They can make the sandwich soggy of they sit around in the sandwich for too long, and nobody likes a soggy hero.