Impure Tabbouleh Salad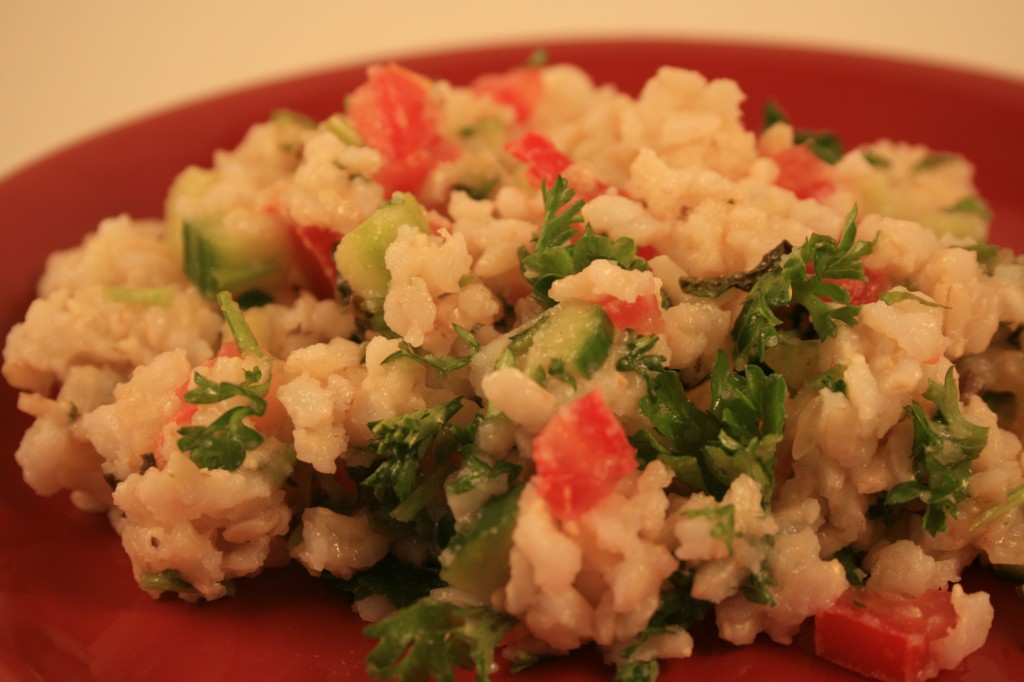 I love tabbouleh. It is tangy and filling, emphasizing the simple nuttiness of bulgur wheat. Big D hates what wheat does to his digestive system. How oh how can the two meet in a pleasant, yummy way? Rice! Brown rice. I call it impure tabbouleh. As a dish made in many different regions of the world and often consisting of local products, tabbouleh by its very nature varies from kitchen to kitchen. I decided to embrace the nature of the dish and make it ricey. A happy hubby tummy is a good thing, and I like it, too! I make a big batch and we eat on it for a week. Even our little girl digs into it when she is in the mood. The later in the week it gets the limey-er the salad gets.
Impure Tabbouleh Salad
4 cloves garlic, diced
2 medium limes, juiced with meat
¼ cup extra virgin olive oil
1 tsp sea salt
1 english cucumber, diced
4 roma tomatoes, seeds removed and diced
5 spring onions, diced
1 bunch parsley, chopped (about 2 loose cups when prepared)
¼ cup mint, chopped
7 ½ cups cooked brown rice (about 3 cups uncooked)
Black olives (optional as garnish)
Combine garlic, lime juice, olive oil and salt. Set aside. Mix together all other ingredients except for rice. Pour dressing over mixture until veggies are covered. Add mixture to rice, making sure dressing and veggies are well combined with the rice. Although the salad is immediately ready to eat, letting it sit for a few hours in the refrigerator allows the flavors to blend. Serve as a meal itself or as a side dish with grilled or roasted meats.