Lemon Mustard Chicken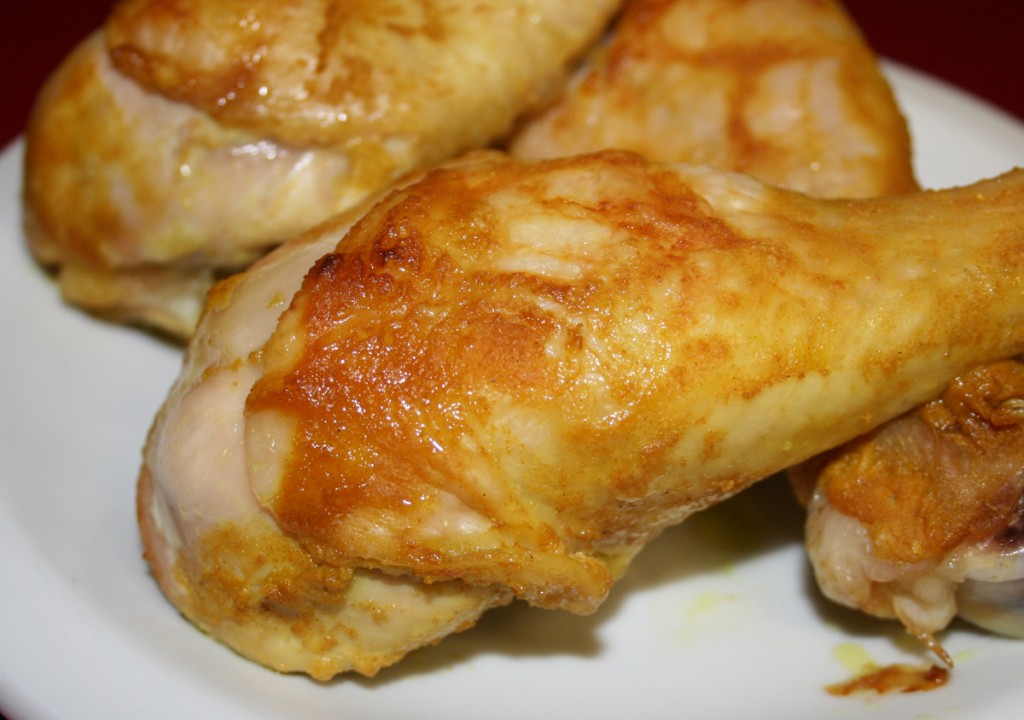 I know I know. You need another baked chicken recipe like you need a hole in the head. I have been on a tart and tangy kick lately, and was drawn to the mustard in the refrigerator door. I have found that mustard is a great thickener for sauces when flour or cream just don't fit the bill. That is, if you like mustard, which I do. The flavor of these legs (I used a package of drumsticks for this batch) reminded me of roasted chicken I had many years ago, which was coated with what I decided was a mustard sauce. There was a little restaurant in Denver I liked going to in the late 1990s called Chad's Grill. Their other food was good, too, but the chicken was addictive as far as I was concerned. I ate my share of salads and burgers and a great variety of daily specials. The atmosphere was very relaxing and open, which made for some long happy hours spent chatting with buddies. I can't say this recipe has anything to do with that sauce I enjoyed many times in Denver, but as I said before, it sure is a pleasant reminder for me. This time of year in Denver we would be enjoying the warmer weather and trying to avoid afternoon showers that would continue throughout the summer. I would be itching for the weekend to come to explore Dinosaur Ridge or poke around Red Rocks. I will end the reminiscing and lick my lips. The sauce I whipped up worked nicely to flavor the chicken, and the turmeric turned everything it touched yellow. I am still working on getting the stain out of Little B's white t-shirt.
Lemon Mustard Chicken
8 – 10 chicken legs, skin on
1/2 cup yellow mustard
1/4 cup lemon juice
1 Tbsp Worcestershire sauce
2 tsp garlic powder
1 tsp onion powder
1/2 tsp turmeric
1 tsp salt
Salt and Pepper to taste
Lightly season the chicken with salt and pepper. In a 9×13 baking dish place seasoned chicken. In a medium bowl combine mustard, lemon juice, Worcestershire sauce, garlic, onion and salt. Drizzle sauce over chicken and make sure the top of the chicken is covered. Bake for 45 minutes to one hour, until juices run clear.