Chocolate Stout Cake with Mint Frosting
Around here May Day (or Beltane for us) is a wonderful double celebration. On this day nine years ago Big D and I got married at sunset on a beach in Nassau, Bahamas. The golden light in the sky worked its magic to form a beautiful rainbow over the ocean, right in front of storm clouds, which were floating away after a brief afternoon shower. It was an unexpected symbol on the day of our joining I will never forget. Beltane is popular for Handfasting ceremonies, but we were past the year and a day temporary 'contract' of a Handfasting, so we dove right into getting fully hitched. We had a small, powerful group of friends and family with us on the beach that day, which makes the memories even more bittersweet as the years pass. The past nine years have been full of travel and adventure and appreciating the awesomeness of our world. Little B joined us about four years ago, which provided me a new perspective on the world as a mother.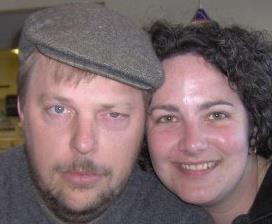 Being a wife and mother has forced me to explore who I am and make sure my small corner of the world fits not only the people in my family, but me as well, in my ongoing quest to remain whole and well. I am so blessed and enriched because I joined forces with Big D. It has sometimes been a bumpy ride, but the bumps have made the whole ride a wondrous thing to behold. I wish for everyone such an experience with another person in their lifetime. Our little family has formed traditions that make for some slightly unconventional holidays during the year. We always celebrate Beltane and our Anniversary with food and drink, oftentimes with friends and family (when they are geographically convenient) and forever will include a rather obscure movie – The Wicker Man. Not the silly version with Nicholas Cage, but the original, released in 1973, with the usually cool and smooth Edward Woodward (aka The Equalizer). We don't go so far in our celebration to (SPOILER) sacrifice a virgin, but we do dress up and decorate and dance, anticipating a late spring and summer full of fresh fruits, vegetables and everything being green.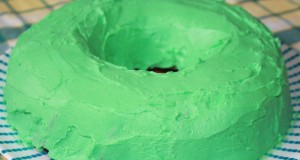 Speaking of green, maybe I should talk a bit about today's recipe. We had a full house on St. Patrick's Day this year. I was so busy posting about the Strawberry Chocolate Bacon Cake right before the Day and Shepherds Pie on the Day that I never got around to posting about the cake I made for dessert on the Day. This cake is not too sweet, which helps bring out the stout flavor, and the frosting gives it a balance for those who like sweeter sweets. It is very rich, which means not much is needed in a serving. The bright shade of frosting reminds me of spring and the nearing summer these days more than St. Patrick's Day, so I thought it was a fitting post for our pending celebration incorporating stout, IPA, ale and other things decadent. Merry meet and have a blessed May Day! Slainté!
Chocolate Stout Cake with Mint Frosting
Cake
2/3 cup butter
1 cup unsweetened cocoa powder
1 tsp vanilla
8 egg whites
¼ teaspoon cream of tartar
1 cup stout (I suggest Guinness)
2 whole eggs
8 egg yolks
2 cups granulated sweetener or equivalent
1 tsp Celtic sea salt
1 cup coconut flour
Frosting
8 ounces cream cheese, room temperature
½ cup salted butter, softened
1 – 2 tsp mint extract
½ tsp vanilla
Green food coloring
1 cup sweetener or equivalent
Preheat oven to 350 degrees. In a saucepan, melt the butter over medium heat. Add vanilla and cocoa powder, then mix well. Remove from heat and let cool. In a separate bowl, beat egg whites and cream of tartar until stiff peaks form; set aside. In another bowl mix together stout, 2 whole eggs, 8 egg yolks, sweetener and salt. Slowly mix in cocoa mixture. Add coconut flour into batter and mix until it is very smooth. Fold egg whites into batter until combined. Pour batter into greased bundt pan. Bake for 30-35 minutes or until a toothpick inserted into the center comes out clean. Let cool and gently remove from pan. While cake cools make the frosting. Whip together the cream cheese, butter, mint extract and vanilla. When the frosting is smooth gently fold in 3 – 5 drops of food coloring, until it is the desired shade of green. Add the sweetener and continue whipping until it is combined. Chill frosting until cake is cooled and ready. Frost cake with a thin layer all over – it is okay if there are bits of cake sticking out – makes it look even more minty and chocolate. Slice and serve.