More One Minute Muffins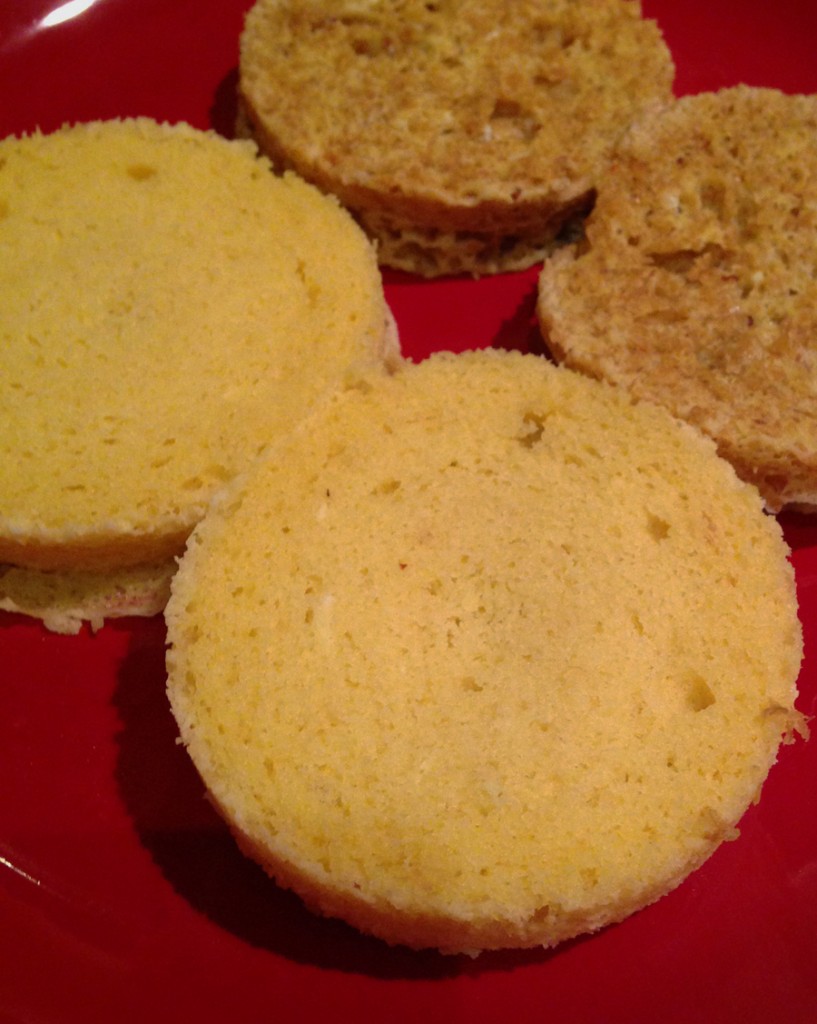 We ran out of homemade bread! Big D is out if town! What are we to do?! I can make bread, yes. I can follow recipes and such, but it feels wrong in this instance. Here is why. Big D and I spend a lot of evenings watching each other cook and talking about things. All kinds of things. Not necessarily about what is being cooked, but other stuff. Our kitchen has a bar that opens into it, so one of us can sit out of the way and still have full access to the kitchen goings on. Little B is always nearby, but our talking is usually about something other than dinosaurs and fairies, so is often boring to her. By all means there are plenty of Little B-centric chats, but less likely during these casual cooking tete-a-tetes. Since it felt so wrong bread baking in Big D absentia, I decided to take a stab at one minute muffins again. I did so previously, with results being a little more labor intensive and very specific to accomplishing
hamburger buns
. Those buns were not going to hit the spot for, say, a breakfast sandwich with sausage, egg and cheese. I wanted something a bit smoother and softer. These are definitely smoother, softer, shorter and sweeter. I also give two different flour/meal choices, but share them together in spite of the very different results. Flaxseed gives a more 'grainy' texture, while the almond meal is smooth and spongier. Pick what pleases you. In trying to include the variations that impact results, I hope I do not confuse. Try a muffin and see what you like!
More One Minute Muffins
1-2 Tbsp butter
1/2 to 1/3 cup golden flaxseed meal or almond meal
1 tsp baking powder
1/4 tsp stevita
1 egg
In large microwaveable mug melt butter (less butter makes for a dryer muffin). Add dry ingredients and stir (a larger quantity of meal makes for a shorter, denser muffin). Add egg and mix until fully incorporated. Place mug in microwave. Cook on high one minute – use of almond meal often needs an additional 30 seconds if the middle is still sunken after one minute. When cooked through remove from microwave and immediately flip muffin out of mug. Serve.