Multi Minute Burger Buns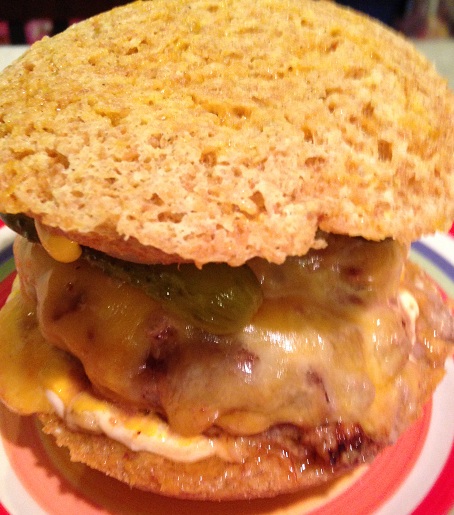 I have seen a bunch of recipes all over the web for one minute muffins, cooked quickly in the microwave. Some are sweet, some are savory. Big D was smoking up some nice, thick burgers for dinner one night and we did not have any of our low carb bread anywhere nearby for them. The delish bread takes hours to make, bake and cool/set, so there was not enough time to make it. One minute is pretty quick, so I decided to try some savory 'muffins'. I liked the recipe shared by DJFoodie. Not much happens around here in the microwave, sitting quietly above the stove staring at me all the time asking to be used. Here was its big chance for it to actually cook something! I tweaked DJ's version a little bit to fit the contents of my pantry and our microwave performance (our oven took much longer to do the cooking), and they came out great! The one batch made plenty of bun pairs (four) for our meal, with leftovers. The buns can also be used for non-burger activities, like sandwiches and even eggs benedict, but what I can attest to here is they make for some satisfying, filling burger buns! 
Multi Minute Burger Buns
1 1/2 cups golden flaxseed meal
1 Tbsp baking powder
6 large whole eggs
1 Tbsp plus 1 1/2 tsp extra virgin olive oil
3/4 cup cheddar/colby jack cheese blend, shredded
2 tsp garlic powder
1/2 tsp ground thyme
Salt, fresh cracked pepper and chili flakes, to taste
Butter or other fat to grease dishes
Optional Burger Toppings
Hamburger patties, cooked to desired doneness
Red or white onion, thinly sliced
Dill pickles, thinly sliced
Ripe red tomatoes, thinly sliced
Mustard
Mayonnaise (we used chipotle flavored, but plain works, too)
Cheese, slices or finely grated
Grease eight (or four used twice) individual microwaveable dishes – I used four salad bowls, each about five inches in diameter. Combine all ingredients in a large bowl and whisk together until well combined. Divide the dough into eight equal parts. Place 1/8 of the dough into each bowl, spreading the top evenly, for the shape will not change much during the cooking process. Microwave on high for 90 seconds to three minutes, depending on the microwave – the middle should be spongy like the outer edges, not mushy. Cook in additional 45 second increments if not done. Remove from the oven after letting them sit in the closed oven for about two minutes after the last cooking time. With a knife gently pull the bun away from the bowl edges. Flip out the bread on a grate to cool and dry out. If using four bowls repeat the process. If you want thin buns slice one piece in half. If you want thicker buns (like in the picture) use two of the eight buns for each sandwich. Add your burger with toppings and eat up!