Simple Salmon Frittata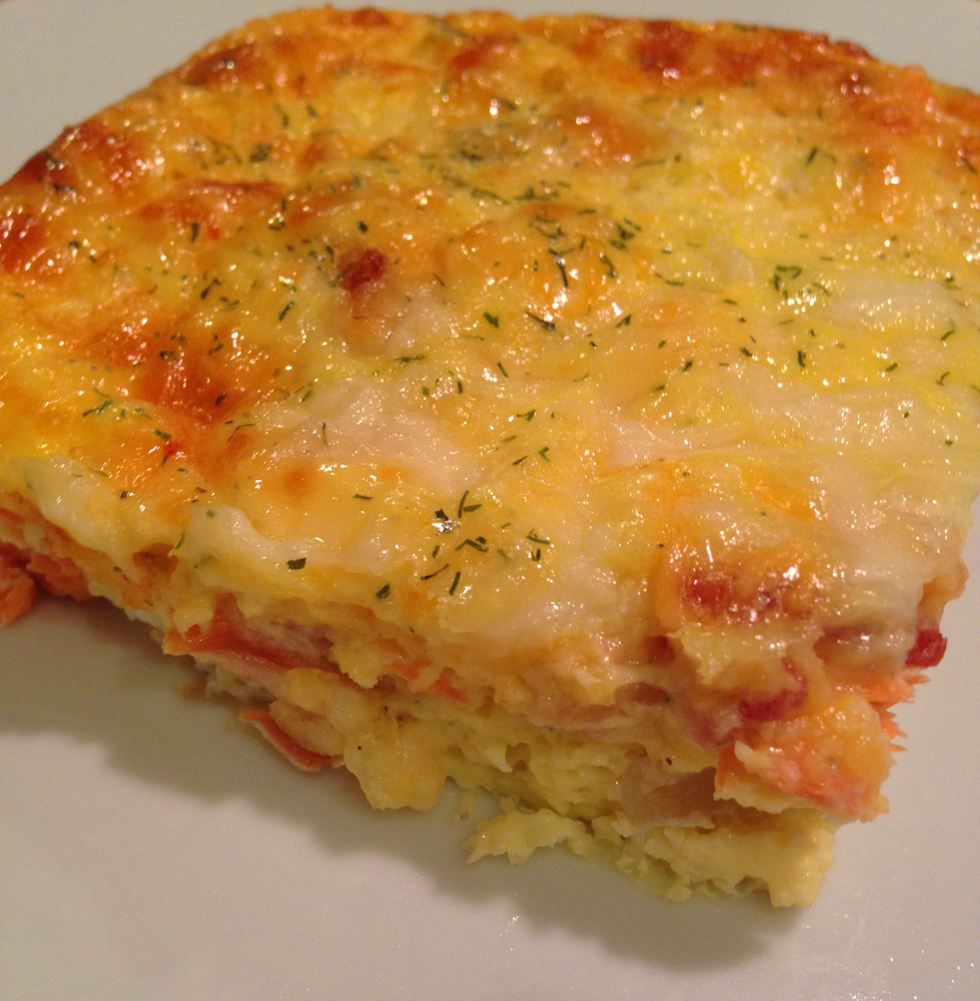 I have shared a frittata recipe with you before, but the ingredients this time combined so nicely, and made such a great weekend breakfast that I decided to share another. Living in Southeast Alaska there is a year round craving for seafood, but it gets magnified as the spring days get longer, and the call to play outside with fewer layers on gets stronger. Our smoker has been busy flavoring meats, vegetables and cheeses for us all winter, but now we ask it to prepare our salmon. A local fish shop – and I mean a fish shop that sells catches from local fisherpeople – Pinkies, had some beautiful, fresh King Salmon. The smoker used alder wonderfully to compliment it, so we feasted on some wonderful marine life. The King Salmon is a big fish, so the leftovers were waiting on us the next morning. I get very used to tossing onion and garlic into many morning egg dishes, but I also leave them out sometimes, depending on the ingredients. This time I chose to let the salmon sing, and it did! I used smoked salmon, but any leftover cooked salmon would work.
Salmon Frittata
8 eggs
1/2 cup heavy cream
1 1/2 tsp dill weed
1/2 tsp sea salt
1/4 tsp ground black pepper
Dash dried red chili flakes
4 ounces smoked salmon, roughly chopped
3 slices cooked bacon, crumbled
1 cup Colby jack cheese, grated
1/2 cup mozzarella cheese, grated
Preheat oven to 350 degrees. Crack eggs into a medium bowl and whisk until slightly frothy. Whisk in cream salt, pepper, chili flakes and 1 tsp of dill. Grease a 9×9 baking or pie dish. Pour in egg mixture. Sprinkle salmon and bacon evenly into the egg mixture. It should sink down into the egg. Follow the fish and bacon with the Colby Jack cheese and then mozzarella cheese. Spread the last of the dill weed and a bit more salt on top. Bake for 30-40 minutes, until edges are browning, middle egg is set and middle cheese is slightly bubbly. Remove from oven and let sit for about ten minutes. Slice and serve.