Spinach Soup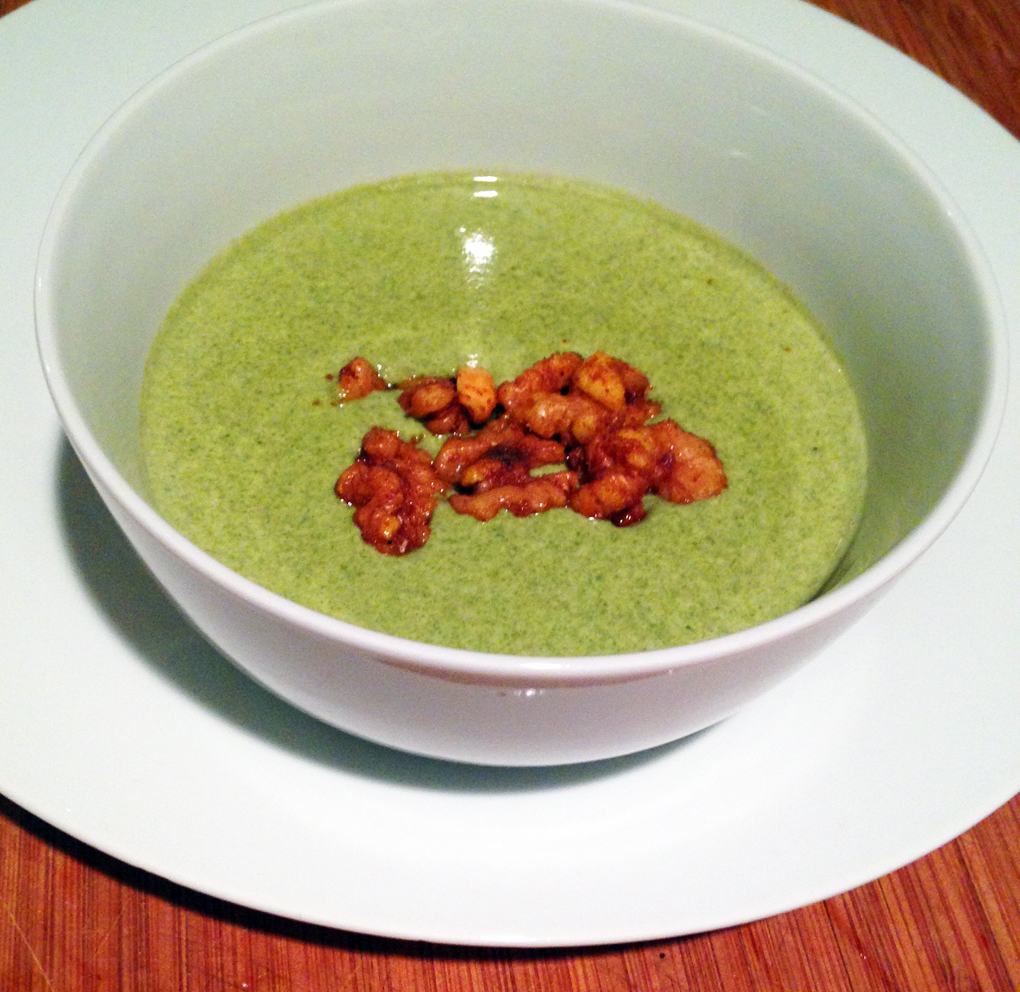 I like green veggies. Ever since I was a kid I especially liked spinach when the other kids thought 'yech'! My mom once told me a story about spinach, my brother and I. We went to daycare when we were little, and one day when we came home we would not eat our spinach. Apparently we were told by other kids we were not supposed to like it, so we did not eat it. Talk about peer pressure! We eventually succumbed and joyfully continued to eat it, but we did have the blip. It is still my favorite vegetable, so here is a great soup that includes spinach and made with bits and pieces from the fridge. It turned out savory and filling, which is a wonderful thing. The soup freezes and reheats well, so is a great lunch addition. Another way the soup is helpful is as a supplement. There is a little cafeteria in the building where I work. They don't have very exciting food, but they make a decent salad. I like the salad but sometimes find it lacking, so I like to bring along some soup to go with the salad. I get to sit in the cafeteria, nuke my soup and slurp it down, along with gnawing on salad, while watching the wind blow or rain fall outside. Simple and relaxing addition to the middle of a hectic day.
Spinach Soup
3 Tbsp butter
4 cloves garlic, crushed
¼ sweet onion, finely chopped
6 cups fresh baby spinach
1 cup chicken stock
3 ounces cream cheese
3 ounces beer, suggest an IPA
1 cup heavy cream
½ cup Parmesan cheese
Nuts as garnish (we used spiced nuts we always make and have on hand, but raw or roasted would work, too)
In large sauce pot melt butter over medium heat. Add garlic and  onion, cooking until garlic and onions begin to brown. Add spinach and toss until it wilts and begins to darken, about five minutes. Add beer and simmer until soup is hot. Add cream cheese, heavy cream and Parmesan cheese and stir. Continue cooking until the cheese is melted. Use a hand blender and puree until spinach is macerated and soup is smooth. Simmer on low for about five minutes. Sprinkle individual servings with nuts and serve immediately.