Oatmeal Vanilla No Bake Cookies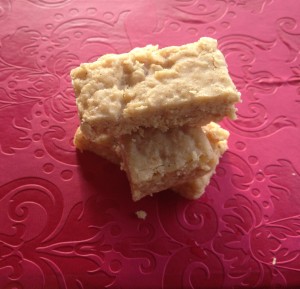 I know I know. This recipe is totally not in line with what I have been making lately, but I have a reason. I wanted to make a little something for people at work, and since 95% of them eat whatever comes there way, I decided to make something with a -little- bit of nutrition, but not exactly sugar free. I took some gluten free sugar free treats for the souls with more sensitive diets, but the majority happily scoffed down these cookies. The result was a big hit, and apparently addictive. I like that. I ate a crumb when I was slicing them up, and wow! One guy at work insisted he really liked the coconut, but I think it was oats, since there is not a speck of coconut in them. Maybe it was a texture thing? His insistence is ironic, considering all the coconut products I use these days. The good thing about this recipe is the fact you can make it from dry goods typically found in your pantry, and staples from the fridge. I would eventually like to try a gluten free sugar free version, but my hunt for sugar free pudding mix without aspartame has yet to be successful…oh well, maybe some day. In the meantime, you now have a recipe that is quick to whip up and will disappear in the blink of an eye!
Vanilla No Bake Cookies
2 cups white sugar
1 tsp ground cinnamon
¾ cup butter
2/3 cup milk
1 (3.4 ounce) box vanilla pudding mix
3 ½ cups quick cooking oats
1 tsp vanilla extract
In a large pan mix together sugar, butter and milk. Bring to a boil. Boil for two minutes. Turn off the heat, add in the pudding mix, oats and vanilla. Let stand five minutes. Drop by tablespoon onto wax or parchment paper and let cool. You can also pour the mixture into a small cookie sheet or baking dish (9×11). Spread evenly and let cool completely before slicing up into desired serving size. Store in airtight container.
Inspired by: http://auntpegsrecipebox.blogspot.com/2012/04/vanilla-oatmeal-no-bake-cookies.html#.UEJBNZbAETA