Pumpkin Pie No Sugar No Wheat No Problem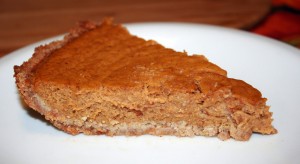 A pumpkin pie with a crispy crust and moist custard, full of spices and sweet pumpkin. A quintessential dessert around my house during the holidays. We like serving it chilled, and mine is usually topped with some freshly whipped cream. I like making it first thing in the morning so the house smells wonderful all day. Little B is becoming quite a pro at stirring, so the custard was a joint effort this year. Sometimes I use fresh pumpkin, other times I resort to canned stuff. I have discovered over the years that the fresh stuff needs a little more spicing to get that just right balance of flavors in the pie. Big D likes his pumpkin pie extra spicy and wheat free, while I want it sugar free with a flaky crust. This recipe met all four requirements! My next wheat free, sugar free pie will be pecan. Stay tuned!
Pumpkin Pie No Sugar No Wheat No Problem

Crust
1 1/2 cups almond flour
1 tsp ground cinnamon
1 Tbsp splenda
4 tablespoons butter, melted
Custard
15 ounces puréed pumpkin
1 Tbsp ground cinnamon
1 tsp ground ginger
½ tsp ground cloves
¼ tsp nutmeg
½ tsp salt
¾ cup splenda
2 large eggs
1¼ cups heavy cream
Heat oven to 375ºF. For the crust, mix together the almond flour, 1 tsp splenda and butter until combined. Press mixture into an 8" or 9" pie plate and refrigerate for at least 30 minutes. In a medium bowl whisk pumpkin purée, splenda, cinnamon, ginger, cloves, and salt to combine. Mix in eggs, one at a time. Add heavy cream and mix well. Pour custard into pie crust. Cover crust edge with aluminum foil. Bake for about 40 minutes, or until filling is set but still a little jiggly in the middle. Cool on a wire rack.