Soupless Green Bean Casserole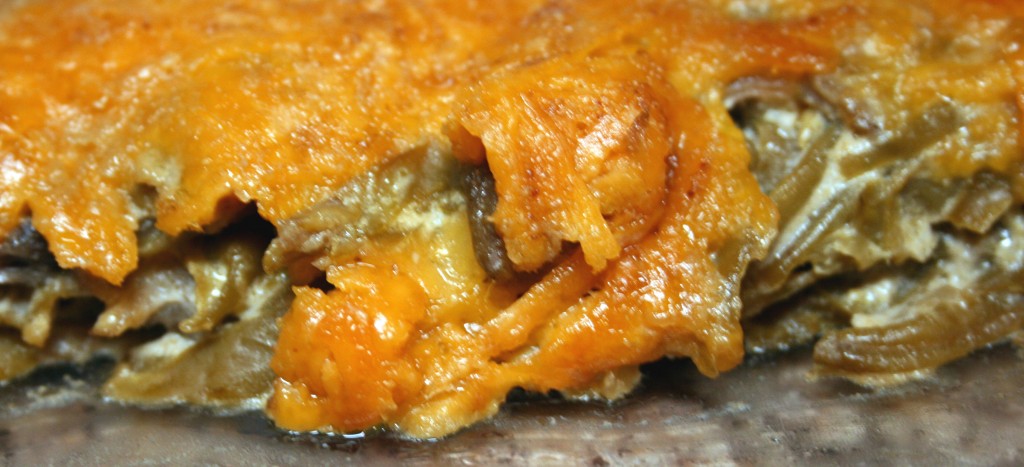 I like holiday meals. Partly because of all the lovely foods we don't make during other times of the year, but also because the meals often require cooking all day. Darn. Heh. We like spending time in the kitchen. Besides keeping us close to the alcoholic beverage supplies, it is a place where we have great conversation and create or try new things. This is a good thing, in my opinion. Besides a huge bird, or a massive ham, I always look forward to green bean casserole. There is something about the beans and the creamy sauce and the occasional mushroom bits all swirled together in a single bite. This version of the casserole does not include the crunchy fried onions, because of the wheaty carbiness of them, but it still turned out to appease my comfort food craving for the soupy, crunch version. I don't know how well this would work with whole fresh beans, but with the canned french style the sauce coated every bit very well and the richness I love so much was able to shine through. I am not partial to all the extra stuff they put in canned soups, as I have ranted about before, so I am always glad to figure out versions of comfort foods I enjoy with out the canned stuff. Big D got a little perturbed at how much I liked the green bean casserole over the flaxseed dressing, which was pretty good. His holiday comfort food goes back to his grandmother's dressing, filled with biscuits, cornbread, apples and sage. I don't know that he ever gave green bean casserole a second thought before we got together. What can I say, I am a green bean casserole girl. Have I mentioned I like green bean casserole? That last one was for Big D.
Soupless Green Bean Casserole
2 Tbsp butter
1 Tbsp coconut flour
1 tsp salt
1 tsp erythritol
1/4 cup onion, diced
2 cups mushrooms, diced
1 cup sour cream
1 Tbsp Worchestershire sauce
3 cans green beans, drained
2 cups shredded Cheddar cheese
Preheat oven to 350F. Melt 2 tablespoons butter in a large skillet over medium heat. Stir in flour until smooth, and cook for one minute. Stir in the salt, erythritol, onion, Worcestershire sauce and sour cream. Add mushrooms. Cook mixture until mushrooms sweat and liquid reduces by about 50%. Add green beans, and stir to coat and heat. Transfer the mixture to a 9×9 casserole dish. Spread shredded cheese over the top. Bake for 30 minutes, or until the top is golden and cheese is bubbly.