Rootless Pot Roast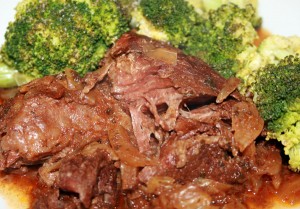 Pot roast without carrots and potatoes? Well, yeah. I wanted to make a pot roast but without the added carbohydrates from carrots and potatoes. I could cook it all together then not eat the root vegetables, but they would be so sad, and so would I. Instead I added cabbage and onion to soak up the zesty flavors and compliment the meat. Of course, after so much cooking time the roast was falling apart and the vegetables were almost dissolved. It made for a rich, smooth sauce with a hint of veggies. Some gently steamed lime infused broccoli on the side worked wonders and loved the sauce. As my grade school companions would say, KISS – Keep It Simple Stupid. Always a good, yet slightly crude and blunt piece of advice.
Rootless Pot Roast
3-4 pound beef chuck roast
1 medium yellow onion, roughly chopped
½ large head green cabbage, roughly chopped
6-8 ounces tomato paste
2 cups water
1 Tbsp garlic powder
1 Tbsp onion powder
2 Tbsp dried parsley leaves
1 Tbsp dried thyme leaves
2 tsp cumin powder
2 tsp sea salt
1 Tbsp paprika
In a medium bowl combine tomato paste and water. Stir until paste is dissolved. Add all the spices and continue stirring until combined. It will actually thicken. In a crock pot add a layer of vegetables using half the onion and cabbage. Add the roast and pour the sauce on top. Sprinkle the rest of the vegetables over the roast. Cover and cook on high for 5-7 hours or on low for about 10 hours.