Salmon Patties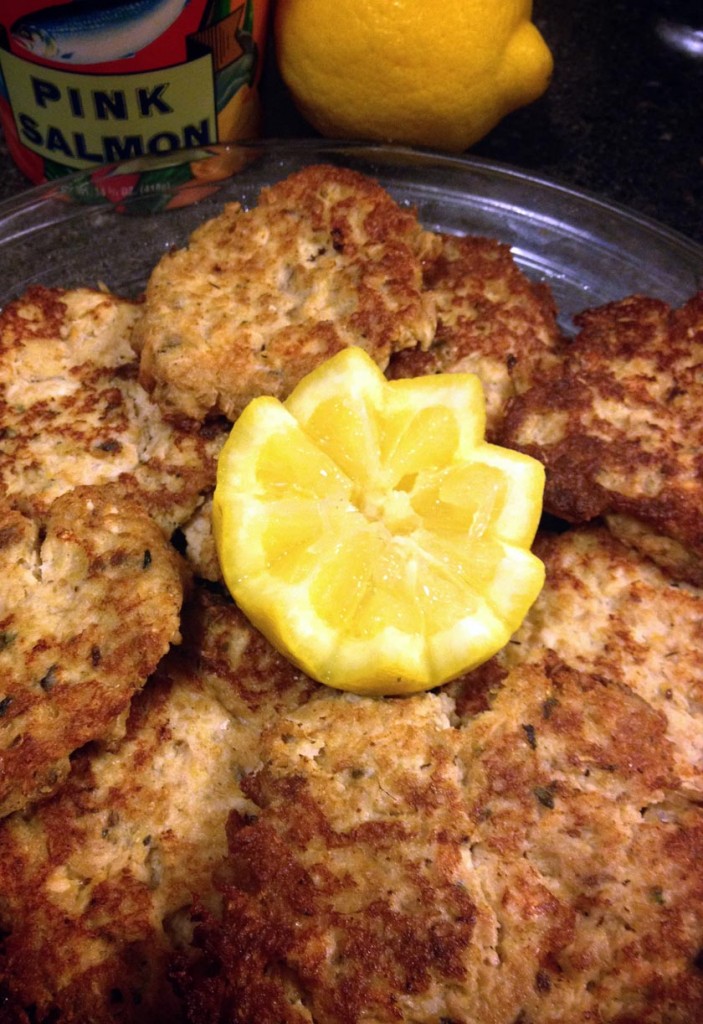 I got nostalgic on this one, in many respects. I was craving salmon and began remembering the patties my mom used to make with the canned stuff when I was little. I liked them, but always got a little shiver when I came across one of the soft, yet still crunchy pieces of bone from the canned salmon. I still recall not being able to decide whether the shiver was fun or not. The soft bone was easily chewable but always a surprise in the otherwise non-chewy dish. Another nostalgia point was from my time living in Juneau, Alaska. In late summer and early fall the salmon pile up on each other in an effort to swim upstream and practically jump out of the water into your arms. You have to make sure they are not aiming for bear arms, but after the all clear on the bear front, you can just grab the slippery suckers. Needless to say, even if you don't fish there is a bounty of salmon, from 'dogs', also known as chum salmon, to the sweet, naturally bright red meat of the sockeye salmon. Living in Juneau you are surrounded by fisherpeople who get their maximum catch as often as they can and they share share share. It can be smoked, steamed, grilled, marinated, chopped, dried, jarred, canned….which brings me to this recipe. For this recipe I used canned pink salmon, which in this case is wild caught from Alaska. Not ideal, compared to the taste of the stuff that was swimming in the creek this morning, but effective in my effort to combine the nostalgie, and the fact that the only fresh salmon found in Maryland is Atlantic. Sigh. And as Big D said, these were the first salmon patties he ever had that were not dry and Little B enjoyed them, too. Score!
Salmon Cakes
1 can pink salmon, drained with spine and other bones removed
1/3 cup plain Greek yogurt
3 eggs
1 lemon, juiced with meat included
½ – 2/3 cup golden flaxseed meal
½ tsp sea salt
½ tsp dried dill
1 tsp dried thyme leaves
1 tsp dried parsley leaves
1 clove garlic, crushed
½ cup coconut oil
In medium bowl add salmon and break it up into small flakes. Make a pool in the middle of the salmon and drop in yogurt, eggs, salt, thyme, parsley, garlic and dill. Whisk together egg, lemon juice and yogurt mixture with a fork until eggs are broken up. Toss egg mixture with salmon until combined. Add ½ cup of the meal and stir. Let sit for a minute or two. While you wait add the coconut oil to a medium skillet and heat to medium high. If the salmon mixture is not thick enough to drop into the oil and hold shape as patties (thicker than pancake batter, thinner than, say, tuna salad) add some more meal and stir it in until thicker. Drop a large spoonful of mixture into the skillet and gently flatten so it is of even thickness and about two inches in diameter. Cook until the patties set and begin to brown on the edges, about 2 minutes. Gently flip the patties and cook for another minute or two. Repeat process until all the patties are cooked. Serve with zucchini wedges or other veggies.