Stuffed Acorn Squash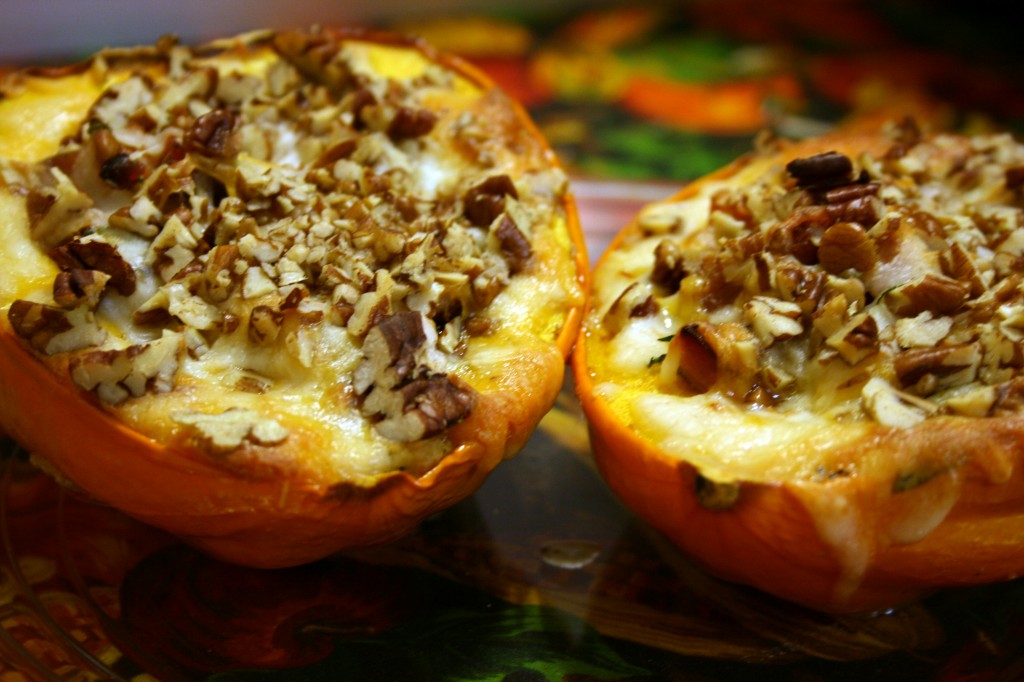 Fall has officially arrived in Maryland. The leaves are changing, the pumpkin patches are very orange and the mums are blooming everywhere I look. I worried a bit because a storm came through this evening and took away some of my beautiful fall leaves. They don't last long and the rain likes carpeting the ground with them. Seeing all the shades of green, yellow and orange turn my cooking thoughts towards squash. The colorful vegetable compliment almost any main dish, and they are easy to prepare in many different forms. One of my favorite methods is roasting them in a way that makes them finger food, but I also found that stuffing them is another way to have delicious results. A few weeks ago we bought a variety of small squash to add a fall touch to our home décor. We included with them some Big D bought, which were orange acorn squash. Little B has enjoyed moving them around to decorate different parts of our place each day. When I get home from work I am never sure where they will be – in the bathroom, the patio or right in the middle of the kitchen floor. I wonder if Little B will realized she is eating some of her decorations for dinner…
Stuffed Acorn Squash
2 acorn squash, halved lengthwise and seeded
2 Tbsp butter
1 tsp sea salt
1 tsp ground black pepper
1 tsp garlic powder
1 tsp onion powder
1 cup fresh spinach, chopped
2 cups ham, diced*
1 cup cheddar cheese
1 cup Monterrey jack cheese
¼ cup pecans, chopped
Preheat oven to 400F. Divide the butter among the squash halves and spread it around inside each (using your fingers is the easiest way, of course). Sprinkle each half with salt, pepper, garlic powder and onion powder. In a large glass baking dish place the four squash halves. Bake for about 30 minutes, until soft and beginning to brown. Remove squash from oven and lower oven temperature to 350F.
Fill each squash half with a layer of spinach, followed by ¼ of the ham. Press the ham down firmly to remove any extra bulk from the spinach. Top with a mix of the cheeses and sprinkle with pecans. Bake for about 20 minutes, until heated through and cheese begins to brown. Remove from oven and let cool for about five minutes before serving.
*This recipe is a great way to use leftover meat, so feel free to substitute the ham for diced chicken, ground beef, pork roast or beef roast. If you don't use ham, which is typically salty, you may want to consider sprinkling some salt on the meat before adding the cheese and pecans.