Sugar Free Pumpkin Spice Syrup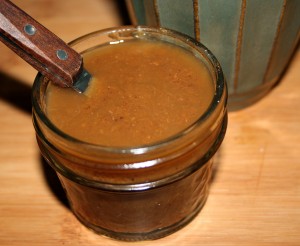 Oh my! The taste of fall! For winter it is peppermint and eggnog. Spring reminds me of berries and fresh salads. Summer is the chill of popsicles and fresh produce everywhere. Now, fall. Fall is squash and cinnamon, nutmeg and clove – and this syrup is the quintessence of fall. I have mentioned this before, but will do so again – I don't like hot drinks during hot weather. It heats up my insides and is just not relaxing to me. Now, hot drinks during cooler weather totally hits the spot. Just the right balance of warmth on the inside with cool weather on the outside. Dreamy! I am enjoying the chill in the air, along with hot teas and coffees. One of my favorites is the pumpkin spice lattes popping up in coffee shops everywhere. The problem is all the sugar in them and the expense, which are discouraging. I have made this sugar free syrup for the past few years and find it has just the right mix of sweet and spicy, without spiking my blood sugar. I keep a jar in the fridge at work and home so I am not tempted by the sugary versions. It also works in my cold brewed coffee, but the hot, steamy latte is perfect for this time of year. Drizzle it over ice cream, stir into hot tea or mix with hot chocolate as well. You won't be able to get enough. Yum!
Sugar Free Pumpkin Spice Syrup
1 cup water
1 Tbsp Stevia (or use your preferred sweetener, equivalent to 1 cup pure cane sugar)
1/3 cup pureed pumpkin
1 tsp ground cinnamon
½ inch fresh ginger
½ tsp ground nutmeg
¼ tsp ground clove
1 tsp vanilla extract
Combine pumpkin, water and sweetener in medium sauce pan. Cook over medium heat until everything is dissolved and begins to bubble. Add cinnamon, ginger, nutmeg, clove and vanilla. Simmer on low, stirring frequently, for about ten minutes until the syrup thickens and makes the house smell wonderful. Let cool to room temperature. At this point you can do one of two things: 1) store in glass jar in the fridge, or 2) strain through fine sieve into glass jar and store in fridge. If you don't mind stirring your coffee while you drink it don't worry about straining and do number one. If you want a more blended cup of coffee or aim to use the syrup in a latte, then do number two. Big D and I like number one, but both approaches have a delicious result. I use about one tablespoon for an 8 – 12 ounce cup of coffee. If used in a latte add about one tablespoon for every cup of milk. The syrup also goes well drizzled over warm muffins, cinnamon rolls or stirred in with pancake syrup for an autumn twist.