Swedish Meatballs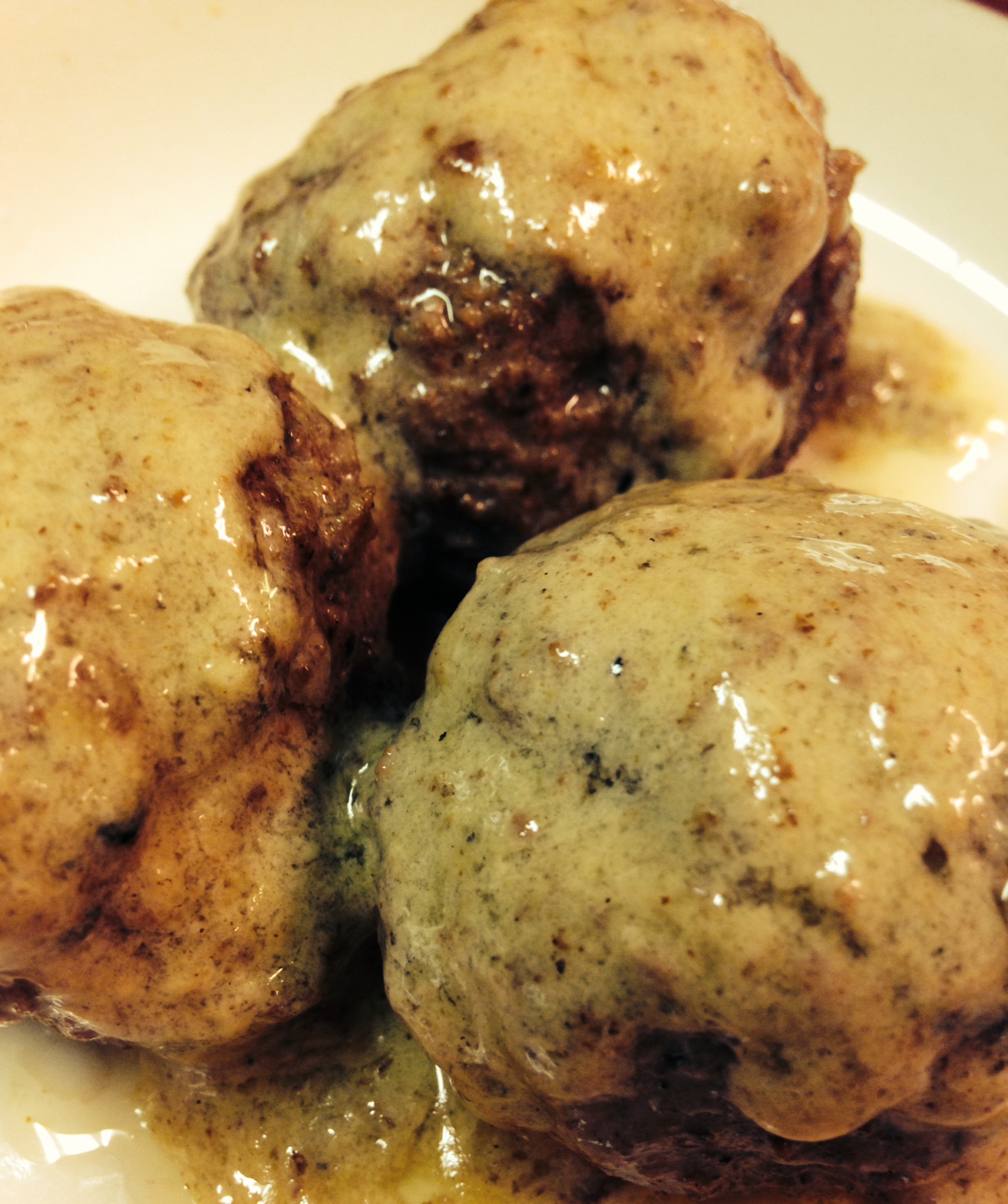 Beyond my version of a Swedish smorgastarta I made a while back, I have not done much with Swedish cuisine, traditional or otherwise. When I think of Swedish cuisine I imagine pastries, fish and meatballs. My hankering to make meatballs led me to the well known Swedish meatballs. Research into the Swedish version revealed they posses a subtle, yet well-rounded flavor. The key flavors, along with the variety of ground meats, are onion, allspice and white pepper. My other meatball versions, whether cheesy or ghoulish, have much less subtle flavors added. I was very curious about making the traditional Swedish dish.
Never partaking of the meatballs on Swedish soil, I relied on my previous experiences eating them here in America. The experiences revealed they are smaller and more delicate than those huge suckers you find in an American sandwich or spaghetti. Served on a bed of zucchini noodles and a side of acorn squash, the meatballs made for a warm, comforting winter meal. The gravy was rich and addictive, and the use of almond meal instead of breadcrumbs worked well to hold the balls together. The bit of gravy left over when the meatballs were gone became two spoonfuls of savory dessert for me!
Swedish Meatballs
Balls
3 tablespoons butter
3 tablespoons finely grated onion
1/3 pound ground beef*
1/3 pound ground pork*
1/3 pound ground veal*
1 teaspoon allspice
1 teaspoon sea salt
1/4 teaspoon finely ground white pepper
2 tablespoons almond meal
1 egg
Gravy
Pan juices
1 cup cream
Sea salt to taste
Finely ground white pepper to taste
Melt 1 tablespoon of butter in an iron skillet over medium heat. Sauté onions in the butter until golden brown. Remove from heat and let cool until comfortable to handle when mixing with meats.
Place ground meats in medium bowl. Add allspice, salt and white pepper, almond meal, onions and egg. Using your hands combine the ingredients until well combined. Form mix into approximately 18 meatballs, each about the size of a  a golf ball. Chill meatballs for at least an hour – this will help them hold their shape when cooking.
Melt the remaining 2 tablespoons in the iron skillet over medium high heat. Add the meatballs, making sure there is some space in the pan around each ball. Shake the pan as you fry the balls, to brown them evenly and prevent flat sides. Continue to cook for 10-12 minutes, until they are evenly browned on all sides.
When all of the meatballs are done cooking transfer them to a plate and place on the stove top to keep them warm.
To make the gravy, lower heat under the pan to medium. Scrape the bottom of the pan to loosen the drippings. Add the heavy cream, salt and pepper to taste. Gently stir to incorporate the cream. Simmer for about three minutes.
Pour gravy over the warm meatballs and serve immediately. Since there is no thickener in the gravy it may separate a bit if overcooked or after it sits away from the heat. If separation occurs just stir right before spooning over meatballs.