Vegetable Cheese Soup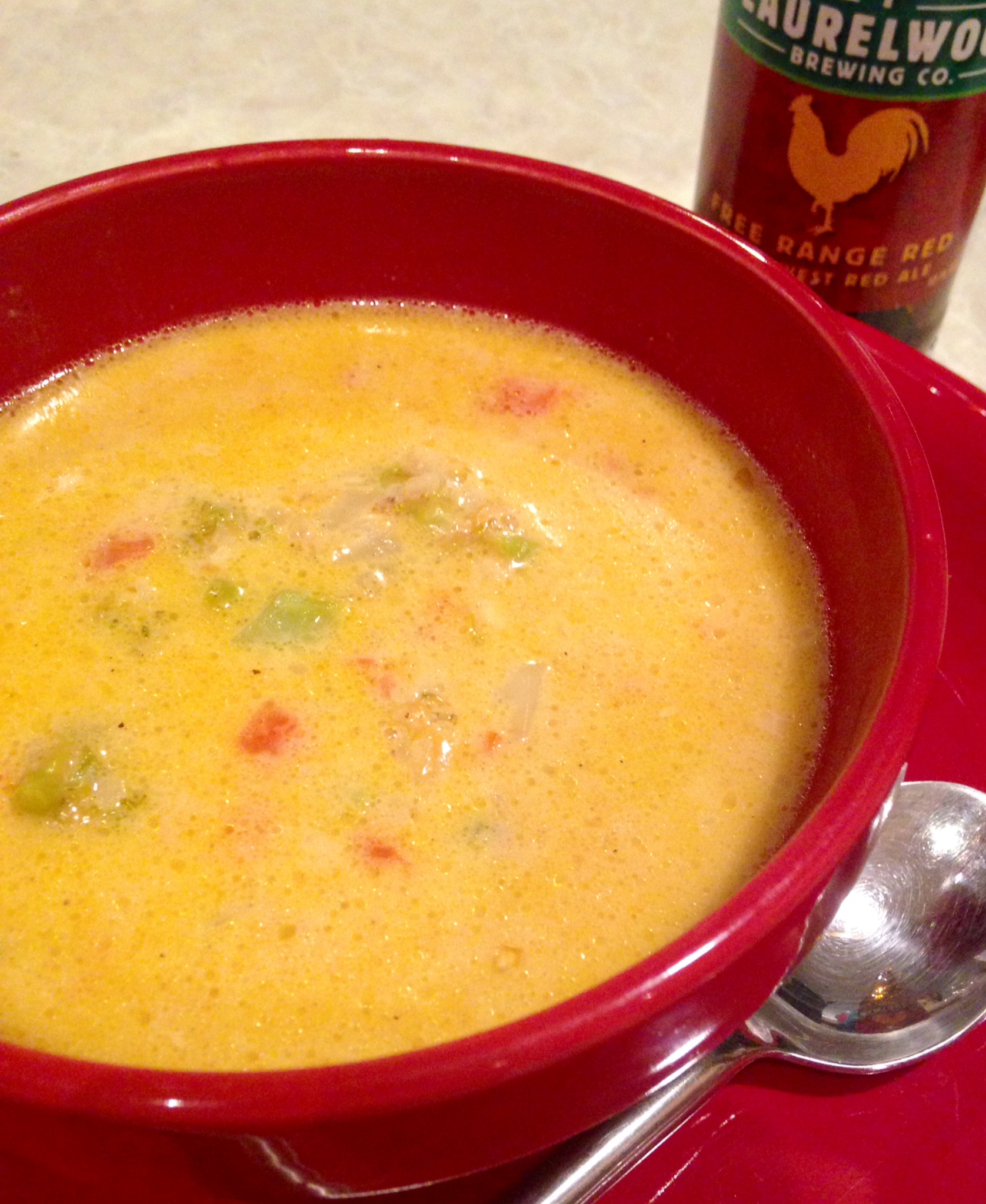 The other day for lunch Big D wanted cheese soup and Little B wanted vegetable soup. We rarely find a canned soup to our liking, much less wheat free, so if we want it we make it. The good thing is we keep a fridge full of cheese and vegetables. The bad news is I did not feel like being a short order cook, so I came up with a one pot wonder. Seeing that there were about three spoonfuls of leftovers, I think they did not mind the merger I came up with. While the sky outside was spitting a mix of rain and snow we filled our bellies with simple warm goodness from scratch. The beer kept us warm too!
Vegetable Cheese Soup
14.5 ounces beef broth
1 cup beer (I used red ale)
2 cups finely chopped broccoli
1 cup finely chopped cauliflower
1/2 cup finely chopped carrots
1/2 cup finely chopped yellow onion
1 plum tomato, finely chopped
4 cloves garlic, finely chopped
2 cups grated mix of cheddar, Monterrey and mozzarella cheese
1/2 cup heavy whipping cream
Salt and pepper to taste
In a medium pot over medium high heat add the broth and beer. When it is starting to boil add the broccoli, cauliflower, carrots, tomato, garlic and onion. Cook for about five minutes, until the vegetables start to soften and soup is hot. Add 1/2 cup of cheese, stirring until combined and the soup is hot again (after it got cooled off from adding the cheese). Continue adding and stirring in cheese 1/2 cup at a time and reheating soup in between until it is all incorporated. Add cream and stir to combine. Cover and let simmer on low for about ten minutes. Serve.