Cornless Corndogs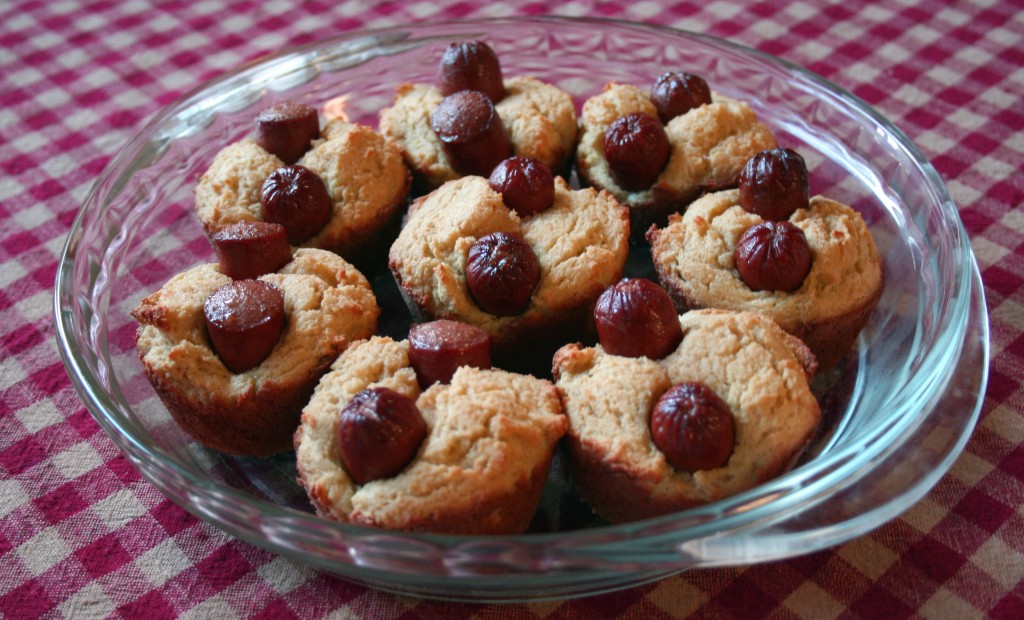 These are sooooo easy! Whip up a batch of coconut flour 'cornbread', impale the cornbread muffins with pieces of hotdog and pop them in the oven. Little B really loves corndogs, but I don't like giving her the funky ones found in the freezer section of the store or deep fried versions at fast food restaurants. I'm not saying that when I am surrounded by a carnival, and there is a severe lack of protein or low sugar options I am going to deprive her of one. I am just saying that when I have an opportunity to give her (and myself) a more nutritious version, I am going to take it. Regardless of how nutritious I try to go, they are still hotdogs. I do try to stick with Hebrew National or uncured versions, but it is still macerated meat. Oh well. Nothing is perfect. Some day I may even figure out how to make these on a stick, but for now, they are delectable muffins. They are baked, portable picnic fare that I personally dip in yellow mustard. Living on the edge. That's me.
Cornless Cordogs
1 batch cornless cornbread
6 hotdogs
Preheat oven to 400 degrees. Make a batch of cornless cornbread batter. Divide it equally in a 12-count muffin tin. Cut each hot dog into four pieces. Stick two pieces of hotdog in each muffin, trying to keep them away from the edges. Bake for approximately 15 minutes, until the batter is cooked and the hotdog pieces are roasted. Let cool before removing from pan. Serve immediately with mustard.