Cucumber Goat Cheese Bites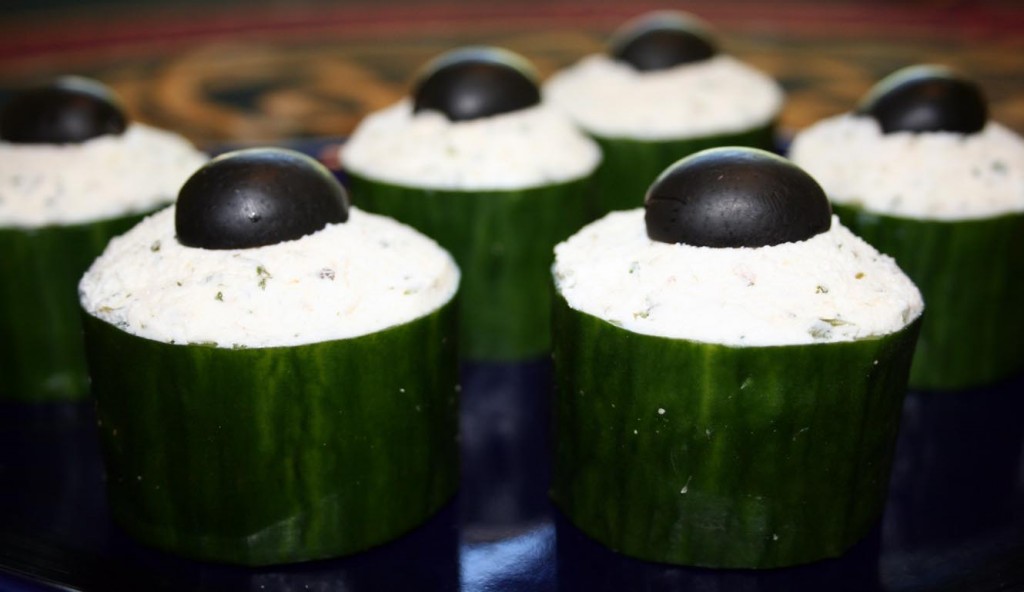 I always love goat cheese, but somehow missed eating it lately. I recently tried to remember the first time I had it – the tart, smooth experience flirting with my tongue. I think it was in Golden, Colorado, while lunching in a little cafe in the historic downtown area. For the life of me I cannot remember the name. I would know it if I saw it again, but since I am Maryland at the moment, such an ability is not very helpful. It was spread on a chicken sandwich, in lieu of mustard or other condiments. I remember leaning on the table with my eyes closed, staring at it, wondering where the cheese had been all my life. Granted, I was only 25 or so, but it seemed such a long time to have been without goat cheese! I may have eaten it before, but passed it off as some other ingredient. Since that chicken sandwich I scour menus for it and grab packages now and then from the store. I get unreasonably excited when a restaurant offers a dollop on top of an otherwise basic green salad, or includes it in a cheesy dippy appetizer. My friend over at What's For Dinner started on a goat cheese kick recently and, inspired, I now eagerly follow suit. On top of the goat cheesiness hankering, the warmer weather is upon us and I am looking to make some cold dishes. Here is a simple cold appetizer, or green salad substitute, that combines flavors my family and I love. The black olives are especially for Little B, who has adored them ever since Great Aunt Debby stuck them on her chubby little one-year-old fingertips.
Cucumber Goat Cheese Bites
1 English cucumber, washed with peel on
5 ounces goat cheese, room temperature
1 tsp dried parsley leaves
½ tsp dried basil leaves
½ tsp garlic powder
5 – 8 extra large black olives, drained and patted dry
Salt and Pepper to taste
Cut cucumber on the perpendicular, to create 1/3 to ½ inch thick slices. Scoop out an indentation about ¼ inch deep on one side of each slice, allowing for the cheese filling to anchor itself. You can use a small melon baller or 1/2 teaspoon scoop. Stir together cheese, parsley, basil and garlic. Sprinkle indentation and top of cucumber slices with salt and pepper. Using a spoon place some goat cheese mixture on top of each slice, filling the indentation and creating a smooth mound on top. Slice olives in half lengthwise, then place a half on top of each cucumber slice. Chill until served.