Dragon Fruit Frenzy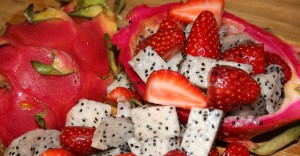 Dragon Fruit is the funkiest fruit I know. It is bright and crazy on the outside and and a neutral black, white and mild on the inside. It kinda tastes like kiwi fruit, but unlike the skin of the kiwi, you should shy away from eating the thick pink skin of the dragon fruit. With the single dragon fruit I got from the market I made two simple recipes – a fruit salad for Little B and a rather odd looking cocktail for myself. The meat of the dragon fruit can be sliced or cubed and looks really pretty with brightly colored fruit – in this case, strawberries.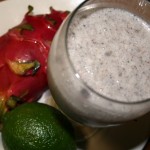 For my cocktail I did a margarita-type drink (I know, blasphemy for the margarita purist), and sipped it while having a nice green salad with shrimp. The whole meal felt kind of summery, which felt odd, since it is December, but very refreshing after some of the heavier foods we are eating lately. With my eyes closed the cocktail was soft and lovely. With my eyes open it looked like a gray sludge that tasted soft and lovely. I don't know what to do about the color, but it tastes wonderful.
Dragon Fruit Frenzy
Strawberry Dragon Fruit Salad
½ dragon fruit, meat only, cubed
¾ cup strawberries, chopped
1 Tbsp lime juice
Combine dragon fruit cubes and strawberries. Drizzle juice over fruit and gently toss. Serve immediately or chill before serving.
Dragon Fruit Cocktail
½ dragon fruit, meat only
¼ – 1/3 cup tequila
½ lime, juiced
1 – 2 tsp truvia
6 cubes ice
Add 1 tsp truvia and remaining ingredients to blender. Blend on high until ice is broken up. The sweetness of the fruit can vary, so taste the cocktail and add more truvia to preferred sweetness. Serve immediately.