Eggs and Greens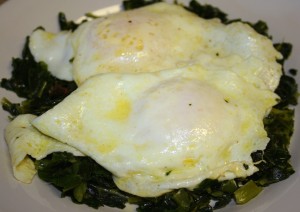 After all the effort put in to making holiday lunches and dinners, the last thing I want to do after a late or particularly celebratory evening (aka, one too many glasses of champagne), is make a big, fancy breakfast. To fill the tummy and make the breakfast last until said lunches or dinners, try some eggs and greens! The combination of protein and fiber will fill up your tummy and won't take very long to throw together. You can always use fresh greens, but more cooking may be needed. We like keeping frozen greens in the freezer that were previously blanched, so a quick saute will make instant, hot veggies for us. We always, always have eggs around, so the combination is a no brainer. I like my eggs cooked medium so there is some firm parts to munch with the egg whites, while the runny part mixes up with the greens. Occasionally I will throw some leftover meat in with the greens if we are realllllly hungry, but it is not necessary to fill right up. Leftover ham could, potentially, result in a type of green eggs in ham, without the freakishly green food coloring added to the eggs. Yes, I have done such a thing to poor eggs, and they taste great if you close your eyes. Heh. If Little B is in a -particular- mood I may have to scramble instead of fry an egg for her, but she likes the greens regardless! Yay!
Eggs on Greens
3 Tbsp butter, salted
2 cloves garlic, crushed
4 cups frozen collard greens, chopped
4 – 6 eggs
Salt and Pepper to taste
In a saute pan over medium high heat add 1 Tbsp butter. When butter is melted add garlic and toss until garlic sweats. Add greens and toss until wilted and heated through, about five minutes. Sprinkle with salt and pepper to taste and toss. Remove from heat, cover and set aside. The greens will continue to soften and keep warm, but not lose much more in the way of nutritional benefit. In another pan add 2 Tbsp butter over medium heat. When butter is melted crack all four eggs into the pan. Fiddle with the edges of the eggs so they don't become one big four-eyed egg. Sprinkle with just a bit of salt. At this point you have two choices – flip or cover. After just enough time to let the eggs set, turn down the heat to low. You can either: 1) flip each egg separately and cook for another minute, or 2) if you don't like flipping, just cover the pan for a minute or so, allowing the top of the eggs to set. Either way, poke the yolks gently to monitor speed of cooking, until they are cooked to desired doneness – soft, medium or hard. It is not my fault if you over poke and puncture the yolk, but how else will you determine how done it is? To plate, put a half the greens on a plate and flatten them a bit, then add two eggs. Serve and consume immediately.