Mushroom Goat Cheese Soup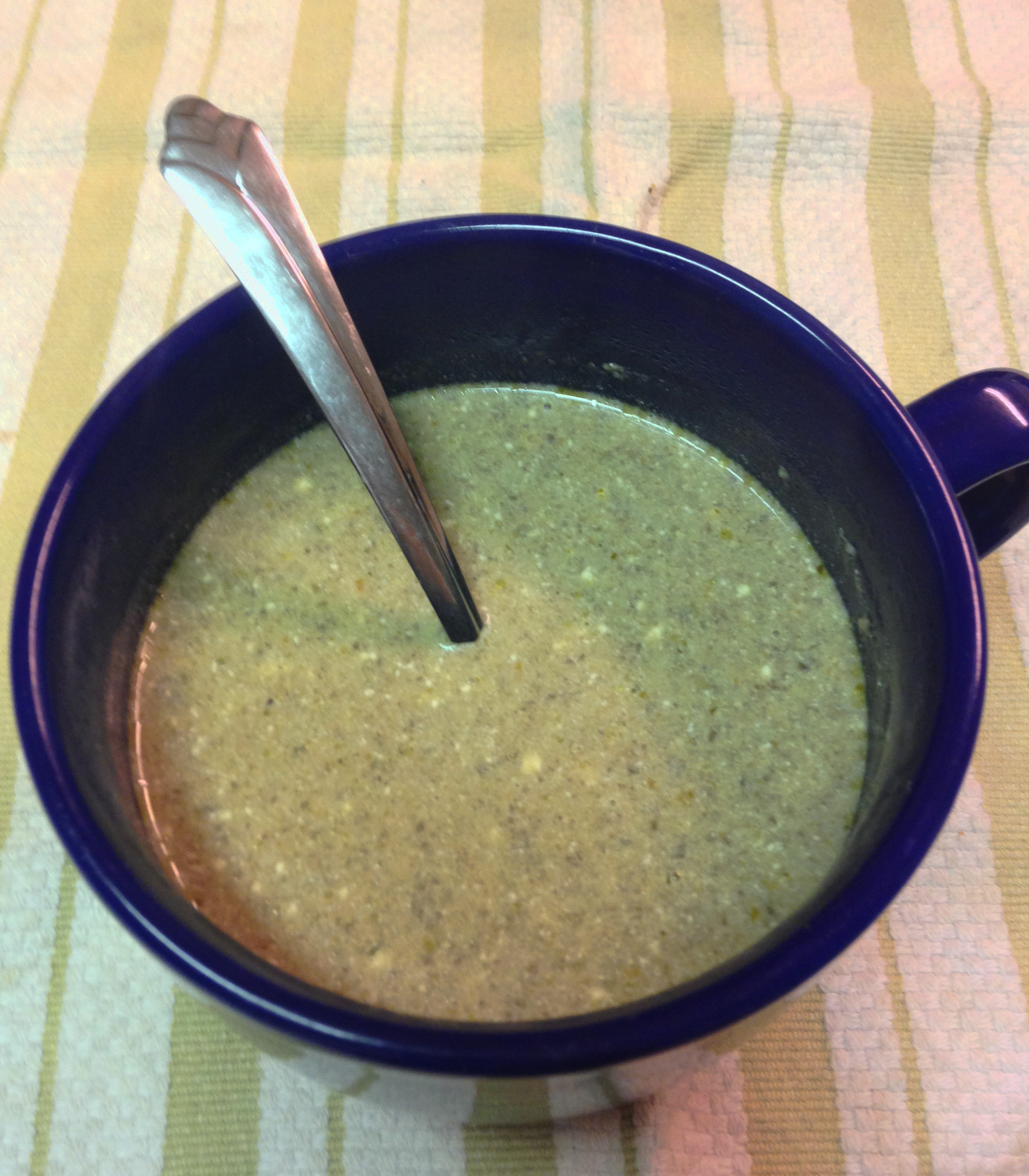 Today I want to talk about fungus. Something I use a lot for so many different reasons it is just silly.
Mushrooms range from having very little flavor of their own, like white button mushrooms, to some that are earthy or taste downright meaty, like Portobello or Shiitake.  I like stuffing big ones with what could otherwise go in a sandwich or pizza, like my Portobello Pizza, or use them to fill out the volume of dish, like my Chicken Faux Fried Rice.
One thing that comes up sometimes is how to clean mushrooms. I never come home with them and drop them in water to get the dirt off, but I do rinse them with water right before I use them. Some people think that rinsing with water is mushroom blasphemy and do nothing more than wipe them with a towel or lightly brush them. You see, mushrooms are like sponges. Whether it is plain water or broth or tomato sauce, they soak up liquid that gets in contact with them. If you soak them or rinse them in water too far in advance of using them in a dish they can absorb the water and dilute instead of enhance. I only rinse them right before using them, so never had a problem with waterlogged 'shrooms.
They are also powerful vehicles for other flavors. Just like they absorb water, other liquids are soaked up by them as well. I often use milder white button mushrooms when I want them to take on other flavors, like in soup or tomato sauces. If I want them to stand more on their own I will go for the earthier, meatier types of mushrooms.
This particular batch of soup had some texture, since I puréed instead of strained the base. I also wanted to let the flavors of the non-mushroom vegetables and the goat cheese shine, so I used the white button mushrooms. Little B liked it until she found a piece of mushroom slice, then, in her words, it was suddenly "not my favorite." That's okay. More for me and Big D!
Mushroom Goat Cheese Soup
1 pound white button mushrooms
2 Tbsp butter
1 medium carrot, finely chopped
1 small bunch green onions, finely chopped
1/2 small yellow onion, finely chopped
3 garlic cloves, crushed
1/2 bunch fresh parsley, stems removed
2 tsp sea salt
1 tsp ground black pepper
3 cups chicken broth
4 ounces goat cheese
1 cup sour cream
Additional salt to taste
Immediately before making the soup, rinse dirt off mushrooms with cold water and leave them out to dry. Remove stems from all the mushrooms. Slice mushroom caps and set aside. Roughly chop up stems. Melt butter in medium sauce pot over medium high heat. When butter is bubbling add green onions, yellow onion, garlic, carrots and parsley. Cook until onions begin to brown. Add the chopped mushroom stems, salt and pepper. Stir occasionally and continue cooking until mushrooms shrink and release their liquid, about five minutes. Add broth, turn heat to low, cover and let simmer for ten minutes.
For smooth soup, pour the cooked mixture through a sieve and discard vegetable chunks. For chunkier soup, purée vegetables with immersion blender, food processor or stand blender. Return liquid to sauce pot over medium low heat. Add goat cheese and sour cream, stirring occasionally until cream and cheese is melted and incorporated while the soup heats up again. Add sliced mushroom caps to pot, stir and then cover. Reduce heat to low, reducing heat further if necessary to make sure the soup does not boil. Continue simmering for 20 minutes.
Turn off heat and let sit for a few minutes until it soup is cool enough to eat, adding more salt to taste if needed.