Stuffed Sweet Peppers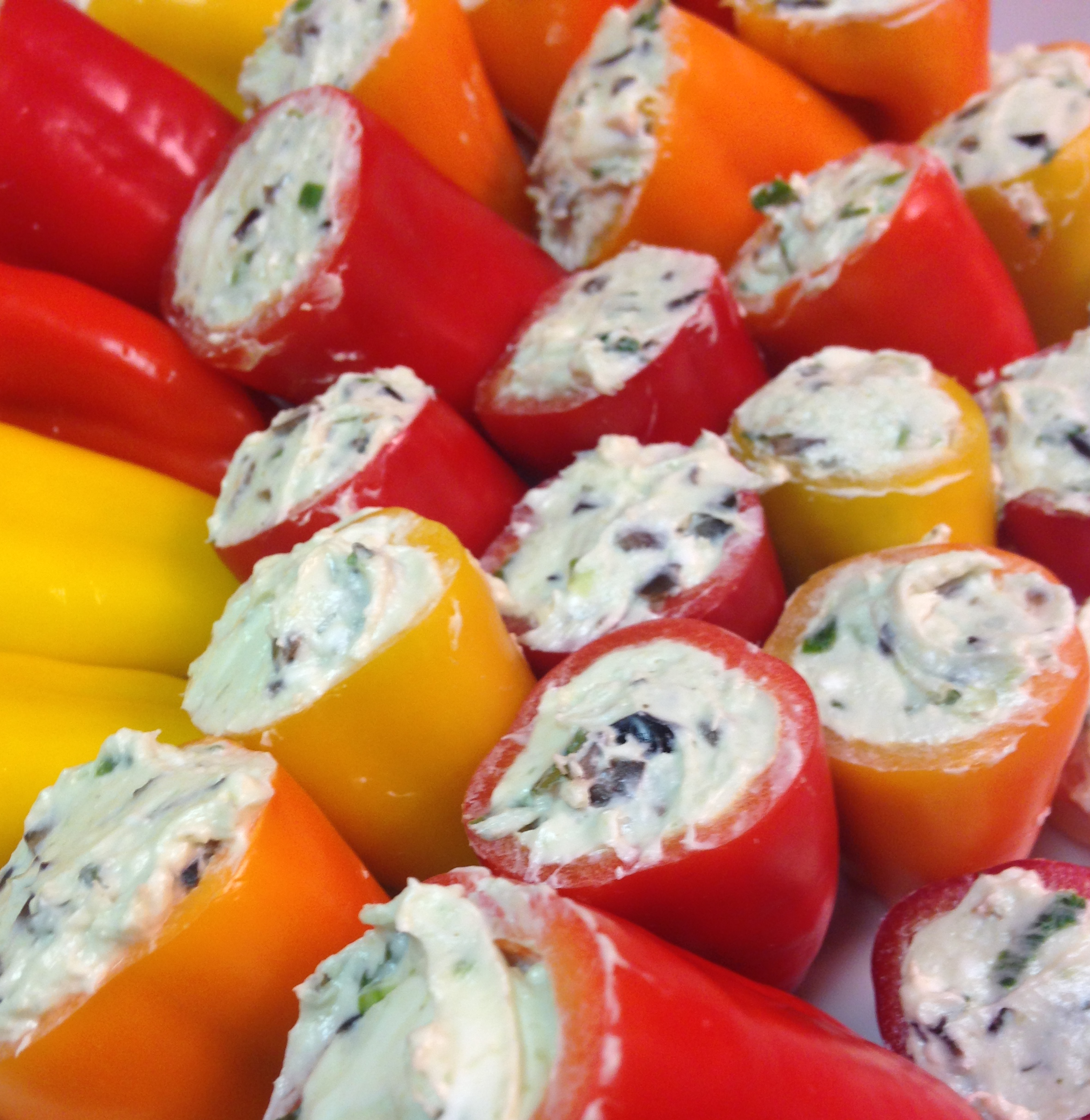 We had a house full of people this past week. Two waves of them and it was great to visit and spend time with everybody. Considering we are pretty casual people there was no intention of having multiple formal sit down meals, except for one, so I wanted to have the fridge full of ready to eat snacks and sides the accommodate all the diet limitations, preferences and cravings. I also have to talk about these peppers. I love the colors and flavors of sweet peppers.
Some may disagree, but each sweet pepper color does have a different flavor. I have stuffed them before with milder cheese filling, but the gang we had visiting likes a bit of a bite to their food, so the addition of wasabi paste was perfect to go with the smooth cheeses and crispy peppers. After being chilled they only lasted two days as people nibbled through the holiday week, but they seemed to make people happy as they crunched away.
If you are trying to fill your fridge with quick snacks or appetizers, here are a few others you can try, besides these pepper bites with bite: cucumber goat cheese bites, Greek salad on a stick, smoked salmon spread crudite, crunchy cinnamon chickpeas and the ever popular junky nuts. I hope you try some of these recipes and have fun doing it, and don't forget to leave the kitchen occasionally and enjoy your people this holiday season!
Stuffed Sweet Peppers
24 raw small sweet peppers
8 ounces cream cheese, room temperature
6 ounce goat cheese, room temperature
1 Tbsp wasabi paste or horseradish
2 Tbsp lemon juice
1/2 cup chopped black olives
4 green onions, chopped
2 garlic cloves, finely diced
1 tsp sea salt
In a medium bowl combine the cheeses and wasabi. Fold in the olives, onions, garlic, lemon juice and sea salt. Remove the stem from all the peppers, scraping out the membrane and seeds with a small spoon. Using a spoon or fancy piping bag with round tip fill each pepper with the cheese mixture. Chill until ready to serve.