Mustard Chicken Salad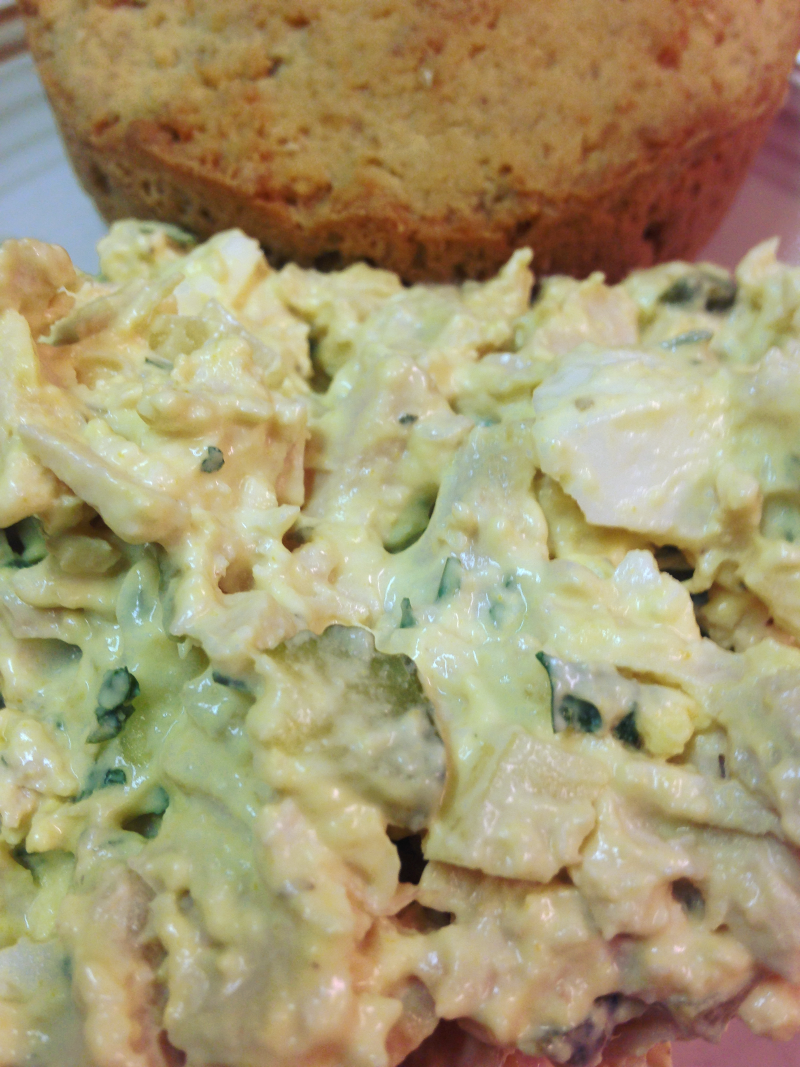 There are a number of dishes that are staples in our fridge. Since we do not rely on convenience foods we have to keep a steady flow of prepared dishes that can be pulled out easily to make a quick meal. Things like coleslaw, boiled eggs, carrot and celery sticks, green salad fixings, tuna salad and also chicken salad.
I especially like chicken salad, and my favorite version has walnuts. It is also a great way to use white chicken meat. Buying chicken from sustainable sources is well intentioned, but expensive. We prefer dark chicken meat, but we don't get picky if the pricey stuff is on sale. Breasts are on sale this week for $2 less a pound? Okay, then that is what we buy. It still is not dark meat, so I like to get creative. This chicken salad is nice and savory with the onion and mustard, and keeps well in the fridge for a big meal or a quick snack. Our power bread made into buns makes for a great conduit when we are seeking out a full meal.
Mustard Chicken Salad
3 large chicken breasts, bone in and skin on
3 boiled eggs, chopped
3 dill pickles, chopped
1/2 medium yellow onion, chopped
1/4 cup yellow mustard
1 cup sour cream
1 Tbsp sea salt, plus extra for chicken
1 Tbsp dried parsley leaves
2 tsp dried oregano leaves
2 tsp garlic powder, plus extra for chicken
1 tsp ground black pepper (optional)
Preheat oven to 350 degrees. Line shallow baking dish with aluminum foil. Liberally season both sides of breasts with salt and garlic powder. Bake skin side up for 30 minutes on the top shelf of the oven. If you are using boneless skinless breasts cooking time may need to be reduced by five to ten minutes. Remove from oven and let cool. Separate bones and skin from breasts. Cut meat into bite-sized cubes.
In a large bowl whisk together the sour cream, mustard, salt, parsley, oregano, garlic powder and black pepper (optional). Add the onion, egg and chicken. Fold in the dressing with the other ingredients until everything is evenly coated. Chill for about 30 minutes to ensure the chicken is cold. Serve with some power bread or fresh vegetables.