Tuna Salad Sautee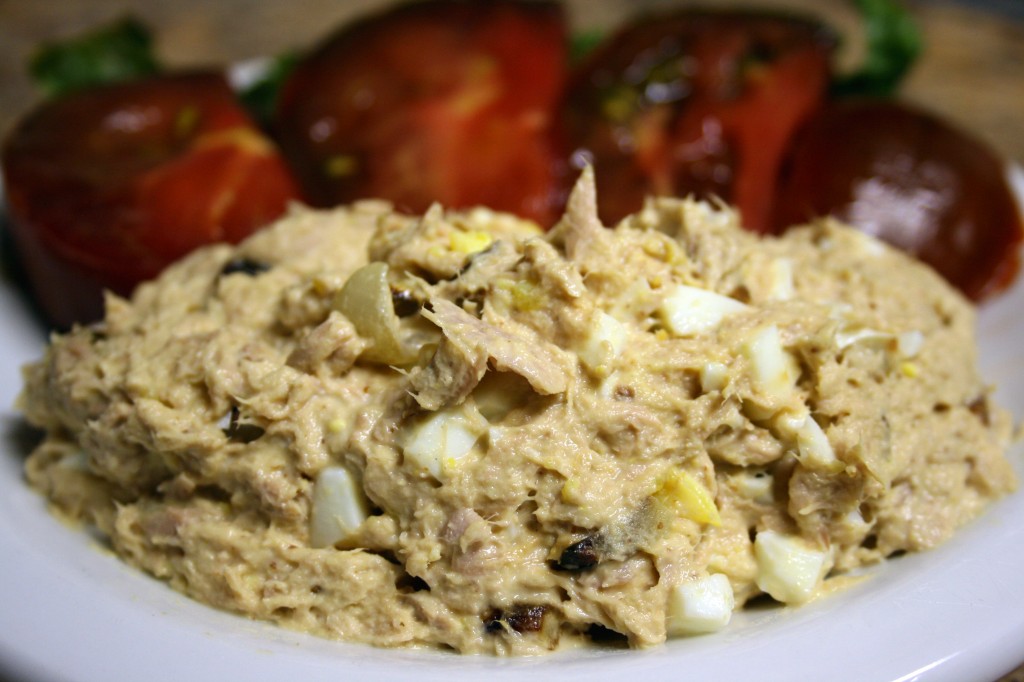 To me summer means eating cool salads. Whether they are cobb, chef, walnut, chicken or tuna, the cool salad always makes me feel happy as the temperatures rise. The word sautee to me sounds like a hot dish, but after the sautee portion of this salad cools off and is chilled, you won't think of sautee the same again. The sweet of the onion and garlic works really well with the tuna and egg. The bite added by the mustard makes you want to alternate salad bites with those of some chocolate zebra heirloom tomatoes you picked up at the farmers' market. Oh, that is me. But if you come across some, grab them! They are dark red and purple and green and smell marvelous. The market in Silver Spring was exploding with vegetables, and we could not pass up these tomatoes, which actually taste like a soft red wine to me…kind of a pinot noir or shiraz. They were delish, and went well with my tuna salad sautee creation. Happy summer!!!
Tuna Salad Sautee
4 small cans tuna in water
4 boiled eggs
1 tsp olive oil
½ small sweet onion, finely chopped
4 garlic cloves, finely chopped
½ cup mayonnaise
2 Tbsp horseradish mustard
Salt and Pepper to taste
Heat oil in small pan over medium heat. Add onion and garlic. Sautee until browned and beginning to caramelize. Set aside to cool while the rest of the salad is prepared. Drain water from tuna into small bowl. Place tuna in mixing bowl and serve tuna liquid to eager cats. Roughly chop eggs and add them to the tuna. Add mayonnaise, mustard, salt and pepper to tuna. Stir ingredients until mixed. Add onion and garlic and stir some more until all the dark pieces are pretty evenly distributed. Chill for at least an hour before serving.