Roasted Radishes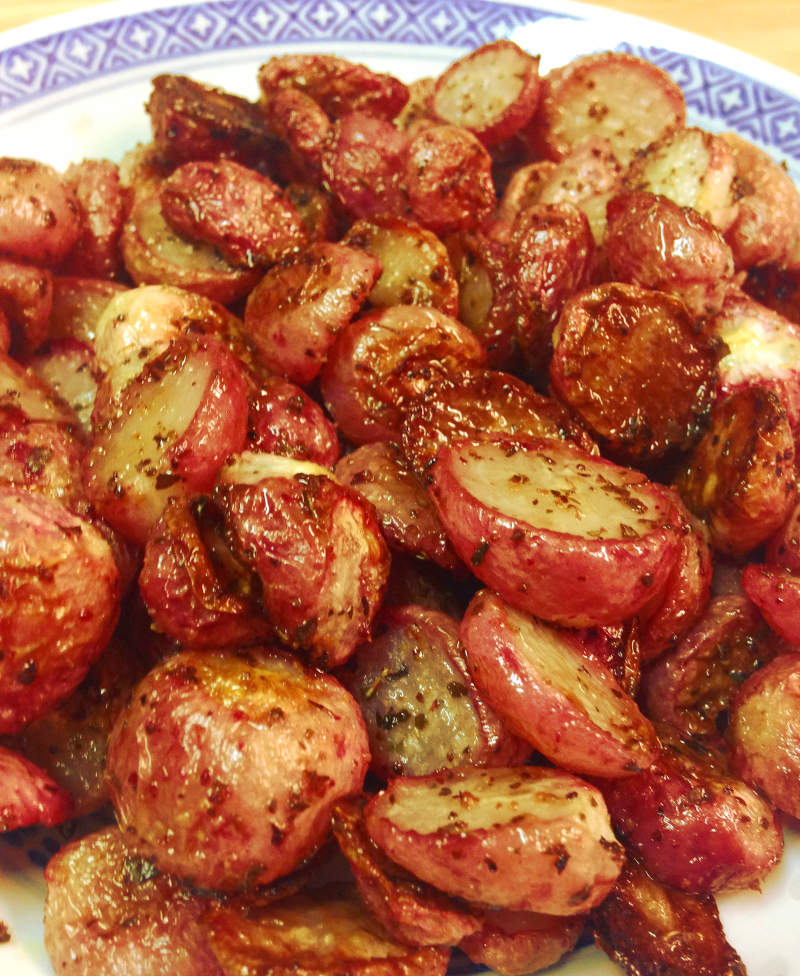 As a kid I did not pay much attention to radishes. They were occasionally included in my green salad, but were a bit spicy for me, along with the raw onion. When older I realized that the spicy and peppery of onions and radishes were wonderful, and I added them in droves. I also found out that the heat of raw radishes and onions changed dramatically when cooked. I often cook up onions to compliment other vegetables and dishes, like in my French onion dip, which is the same for radishes. As you can see from the picture, they can easily be mistaken for roasted new potatoes or turnips. These guys are like vegetable candy. The radishes remind me of turnips, but much more tender and sweet from the start.
Texas is bursting with vegetables during the summer. Farmers markets are full of root vegetables, including radishes and I totally went for it. The radishes were ecstatic raw with a peppery bite to them. The great thing about radishes is that they are tender from the beginning, and only get more tender if cooked. They can be lightly roasted until just heated through, or if they are roasted a bit more, you allow for a bit of caramelizing. I did the longer cooking time to maximize the caramelizing. They go great with the pile of smoked meats that came out of the smoker when the radishes came out of the oven. Between the radishes, smoked meats my brother made and a big batch of coleslaw, we had a summer feast to end all feasts.
Roasted Radishes
4 cups small red radishes, chopped in halves
3 Tbsp extra virgin olive oil
2 tsp sea salt
2 tsp granulated garlic powder
1 tsp dried parsley leaves
2 tsp dried oregano leaves
Preheat oven to 400 degrees. In a large bowl combine the oil, salt, garlic, parsley and oregano. Add the radishes and toss until coated. Spread radishes evenly on foil lined shallow baking pan. Bake for 30 minutes. Remove from oven and toss, then return to oven for 30 minutes. Remove from oven again and serve immediately.