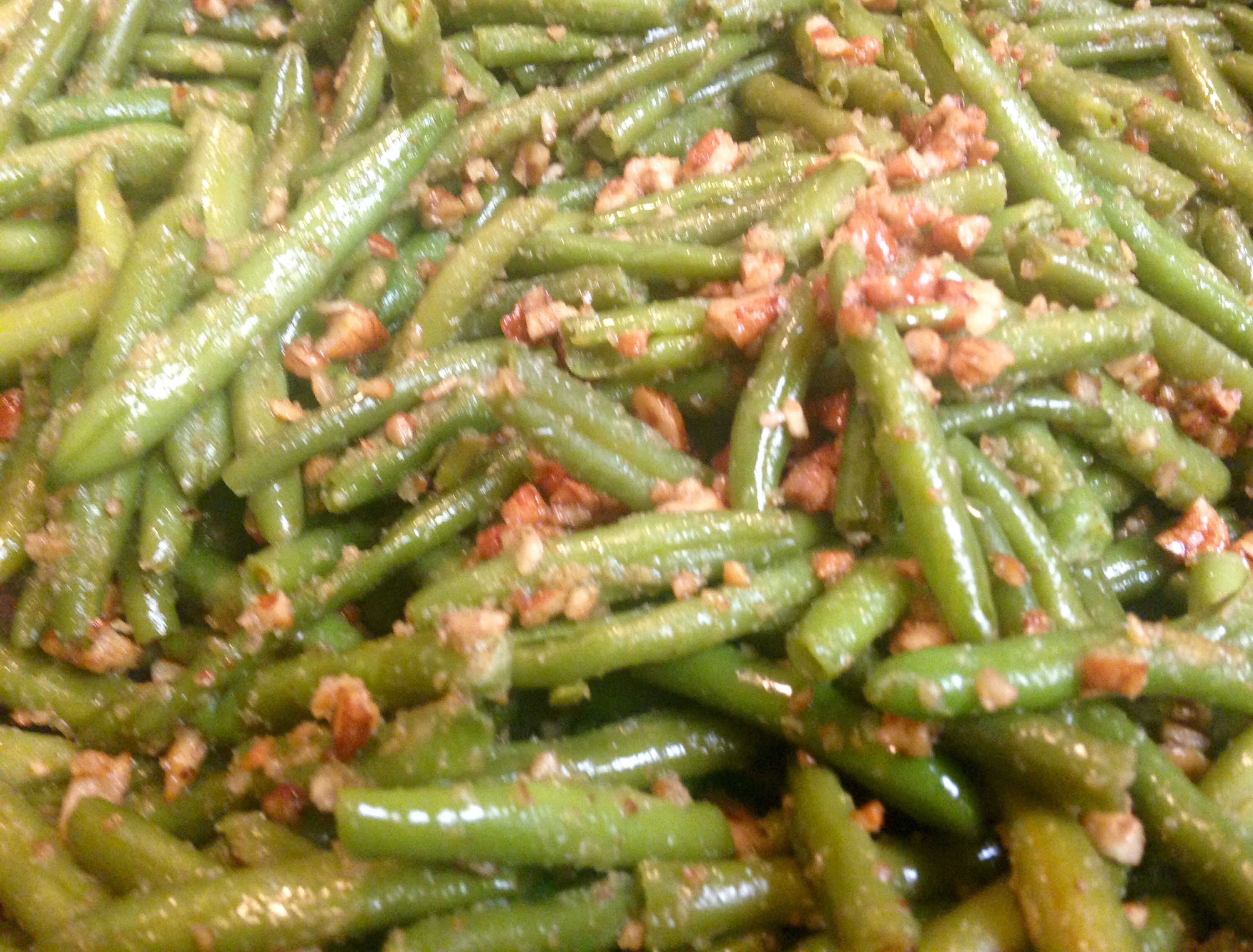 One of my favorite low carbohydrate vegetable dishes is green beans. I especially love them with crunchy bits of nuts in them and a pleasant coating of butter.
Whenever I make these I am reminded of the green beans my grandmother used to make. She started with fresh green beans and a little fat like I do, but her cooking approach was very different. She would boil those suckers all afternoon until they were mush at dinner time. They tasted great, but there was no need for teeth to eat them! The great thing about them was flavors from the pork belly she used for the fat element. The pork flavor permeated the beans, so every bite was delicious!
I don't make mine the same way, partially because I don't have all day to monitor the bubbling pot, but also because I like my cooked green beans with a little snap to them. The cooking time in this recipe softens the beans a bit, but they can still hold their own as individual, non-mushy beans, and you will need teeth to eat them.
Pecan Green Beans
1/4 cup bacon grease or butter
8 cups trimmed, bite-sized fresh green beans
1 1/2 cups roughly chopped pecans
1 teaspoon garlic powder
1 teaspoon onion powder
Sea salt and ground black pepper to taste
In a large skillet over medium-high heat melt the grease or butter. Add the pecans and let cook for about three minutes.
Add the green beans, garlic powder and onion powder. Toss until beans are coated and nuts distributed among them.
Lower heat to medium, cover and let cook for about five minutes, until beans begin to soften. Toss beans and cover again, cooking for five more minutes.
Season with salt and pepper, toss beans. Beans can be served immediately or cooked longer to make them the desired softness.