Tzatziki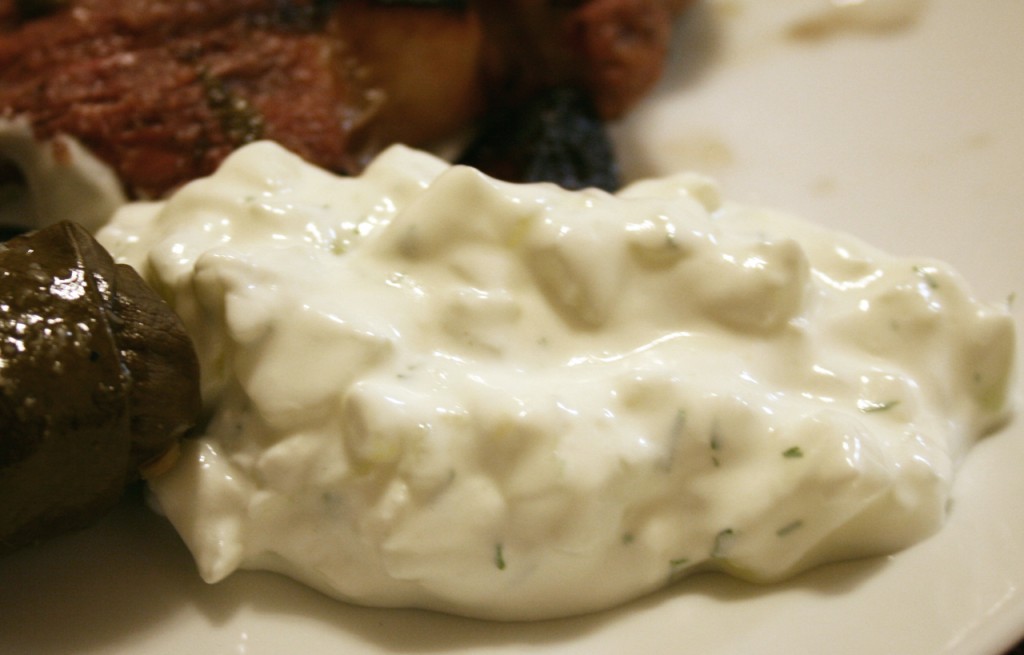 I could just eat this stuff straight from a bowl, with a big spoon, as in "would you like some lamb with your tzatziki"? Forget daintily dipping or drizzling it on food. Sometimes I get a Greek salad just to be able to mix tzatziki in with it. I used to love dipping pita bread into tzatziki and hummus – oh, what a bite exploding with flavor! These days, since I don't eat pita anymore, I rely on roasted meats and veggies as my tzatziki conduits. Beyond the lovely, tangy creaminess of the sauce, I just like saying the word – tzatziki, tzatziki, tzatziki. I eat salsa with Mexican food, I eat wasabi with sushi, I slather steaks with chimichurri, I put mustard on hotdogs and I top Greek food with tzatziki. So there.
Tzatziki
2 cups plain Greek yogurt, or half sour cream and half yogurt
1 medium cucumber
2 large garlic clove, crushed
1 Tbsp finely chopped fresh mint
2 Tbsp finely chopped fresh dill
1 Tbsp olive oil
2 Tbsp fresh lemon juice
Salt, to taste
Peel, halve and remove seeds from the cucumber, then finely dice. Sprinkle salt on the diced cucumber and let sit for about five minutes. Place diced cucumber it between two towels and press gently to remove any excess water. You may need to repeat with more dry towels to get all the water. In a medium bowl combine yogurt/sour cream, garlic, mint, dill, olive oil and lemon juice. Stir until combined. Fold in cucumber and mix until it is evenly distributed. Add salt to taste. Chill overnight before serving.