Baked Chicken with Cheese and Spinach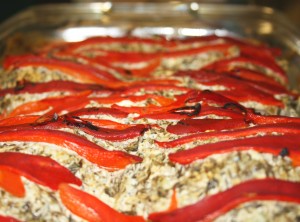 I noticed that it's been a while since I posted a chicken recipe. I can't go too long without doing chicken. We eat it often and I try to vary the preparation. It is always easy to roast a bird, but a nice sauce on top of baked pieces is comfort food extraordinaire. I did a slightly similar recipe a while back, but this dish is much more rich and thick, with a completely different result. This stuff is pretty rich, and I spooned up every bit of the sauce when the chicken was long gone. Our young charge Lanky P, who is living with us now, is not a vegetable eater, which makes for a lot of scrambled eggs in his belly. I was nice and did a few thighs without the sauce for him. I think he seriously missed out, but whenever someone dislikes vegetables I respect it, but think it is a little sad. There are so many wonderful flavors you can get from vegetables. Maybe I will do some recipes and sneak in veggies – I did it the other day with spaghetti sauce and he cleaned his plate. I never have to sneak with Little B – she eats frozen broccoli florets straight from the freezer as a snack, for goodness sake – so I can hone my veggie sneaking skills with Lanky P. Heh. Heh. Heh. That is an evil laugh if you don't recognize it.
Baked Chicken with Cheese and Spinach
6 – 8 chicken thighs, skin on but edges trimmed
3 cups fresh spinach, roughly chopped (or 13.5 ounce can spinach, with liquid squeezed out)
1 Tbsp extra virgin olive oil (if using fresh spinach)
6 cloves garlic, crushed
8 ounces cream cheese
4 ounces goat cheese
6 ounces sour cream
½ tsp sea salt
2 Tbsp lime juice
3 roasted red peppers, jarred or fresh roasted with skin removed
Salt and pepper to taste
Preheat oven to 375 degrees. Lightly salt and pepper chicken thighs after trimming off excess fat and skin – leave enough skin on to cover the top of the chicken thigh meat. Place one layer of chicken in 9×13 baking dish. Slice red peppers into thin strips, no more than ¼ inch width and set aside. In a medium pot over medium high heat add garlic and spinach (if using fresh, add oil first until heated, then garlic and spinach). When spinach is hot add cream cheese, goat cheese, sour cream, salt and juice. Stir until cheeses are melted and combined with spinach and garlic. Spread cheese and spinach mixture over chicken. Lay slices of red pepper over cheese mixture so they are evenly distributed. Cover pan with aluminum foil. Bake for 20 minutes. Remove foil and cook for 20 – 25 more minutes until peppers are dried out a bit, cheese is bubbly and chicken is cooked through. Let sit for about five minutes before serving.