Quick Savory Green Beans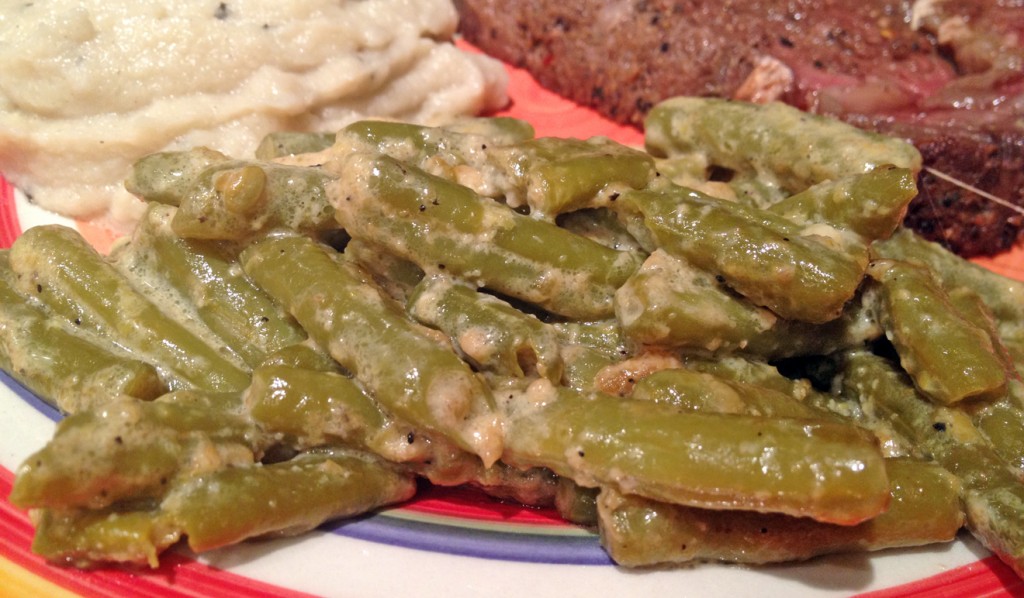 Every once in a while I get a craving for green bean casserole. You know, the kind you usually only have as part of holiday meals? Since we are not a few days past a holiday there is missing from the fridge a casserole dish waiting for me to empty it. In the spirit of immediate gratification I had to act fast. A few years ago I came up with a low carbohydrate version that is really good and satisfying, but the multiple steps don't always work for a fast weekday evening meal. We had some leftover prime rib roast that would take about twenty minutes to heat up, so I had time to make a vegetable side, but not an hour for a multiple step dish that needed to finish in the oven. These beans cook up quickly on the stove top and are ready by the time the leftover meats was heated up in the oven, and wow did they hit the spot flavor wise. Viola! The flavor of green bean casserole without the carbohydrates and without the baking. Definitely something I was able to easily make up with our pantry staples. Add some leftover mashed cauliflower along with the beans and you have a delicious meal for an ordinary Monday night.
Quick Savory Green Beans
2 cans green beans
1/4 tsp ground black pepper
1/2 tsp sea salt
1 tsp garlic powder
1/2 tsp onion powder
2 Tbsp butter
1/5 cup heavy whipping cream
3 Tbsp Worcestershire sauce
1/2 cup parmesean cheese
In a dry skillet over medium high heat add the beans. Saute until they begin to dry a bit and sear. Add the pepper, salt, garlic powder and onion powder. Toss and cook for another minute. Clear  a spot in the middle of the pan and add the butter, parmesean cheese and Worcestershire sauce. Stir into the beans as the butter melts. Cook for another five minutes. Add the cream and simmer for five minutes, allowing the cream to heat up and sauce to thicken. Serve immediately.