Yowza Anniversary Cinnamon Rolls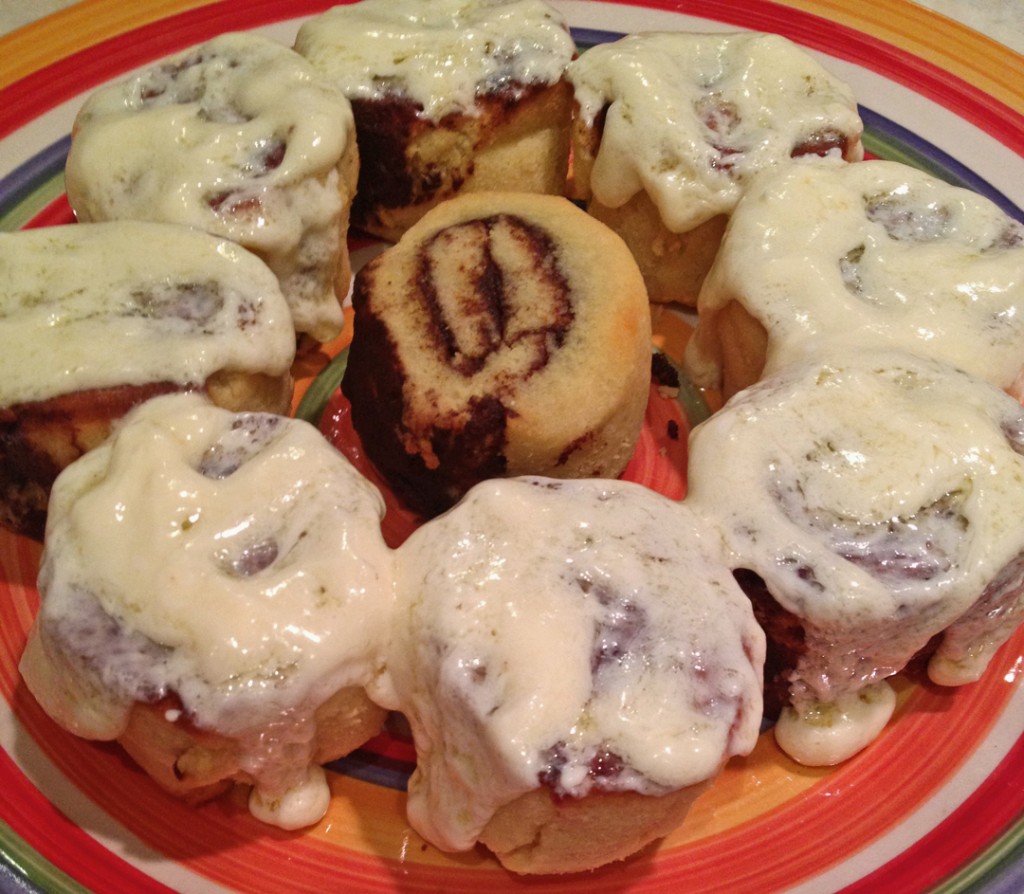 Year three of my blog is starting. Tomorrow. Wow. Yowza. It amazes me that I have been able to continue with it. Not because it is hard, for I love exploring new recipes and sharing old ones, but because making it a priority has given me so many opportunities to focus on myself. This may mean more to people that know me well, but can also make sense to those who don't. I very often get caught up in helping and supporting people around me – family, friends, co-workers. I discover too late that I do not do 'me' stuff frequently enough, so my energy stores and momentum fade away. Knowing that I promised myself to continue the blog has given me a way to keep my personal enthusiasm up. With all the changes and moves and adjustments our family has gone through during the past year I am proud of myself for continuing the blog. Picking up and moving cross country (contiguous) and beyond takes a lot of energy, to embrace the experience and joy of every day. I love we had the experience and expect to do it again and again in our lifetimes. As I look back on the past two years I also see how our eating habits have changed. Moving from eating everything imaginable to excluding wheat to also excluding most starchy carbs and sugar, I see how our journey has evolved. We are not perfect, as with all human being, but we try. Some exclusions have driven us to challenge ourselves to continue our traditions without the 'evil to us' ingredients. Things like tamales and king cakes and cookies and muffins are part of the plethora of recipes we rely on to add variety to our diet without deviating. As I work through the various recipes that we love in nostalgia, and discovering new ones, I am so excited to share them with our daughter. It is a constant effort to balance our memories while developing new, healthier versions for her. Miss Marie has recently shared a recipe for cinnamon rolls. I made some changes, of course, and the result made for some amazing treats to celebrate my second anniversary. Between Big D's love for such rolls and my extensive time spent in airports sniffling the wafting aromas from the cinnamon roll denizens who live there, the treats are cherished and longed for. I am ecstatic about finally making some and feeling indulgent in celebration. What better way to celebrate an anniversary than to make such succulent yummies. Little B loved helping spread the filling and, as always, frosting, just like the cupcakes we made a while back. Thank you to those who have followed my journey the past two year and welcome to those who joined me recently! Slainte!
Yowza Anniversary Cinnamon Rolls
Pastry
3 eggs
1/2 cup butter or coconut oil, softened
3 Tbsp erythritol/stevia blend
1/2 cup coconut flour
1/2 cup blanched almond flour
1/2 tsp aluminum free baking powder
1/2 tsp Celtic sea salt
1 tsp vanilla extract
Filling
3 TBS Coconut oil or Butter, softened
2 TBS Cinnamon
3 TBS erythritol/stevia blend
1/4 tsp stevia glycerite
Frosting
6 TBS cream cheese, softened (or coconut cream if dairy allergy)
3 TBS butter, softened
2 TBS spoonable erythritol/stevia blend
A little heavy cream (to thin it out, if desired)
Pastry: In a medium bowl, cream the butter and the sweetener until very smooth. Add in the eggs. In another bowl mix together the coconut flour, almond four/meal, salt and baking powder. Slowly add in the dry ingredients into the wet, then add in the vanilla. Stir until a thick dough forms. Cover and place in fridge to chill the dough for 1 hour or overnight.
Frosting: Place all ingredients into a medium sized bowl and combine until smooth. Store in fridge overnight. When you start the Pastry Again section below remove Frosting from the fridge.
Filling: Mix all ingredients together.
Pastry Again: Place a sheet of parchment on counter, then spray with coconut oil spray. Place dough on greased parchment, push the dough down a bit, and spray with another layer of coconut oil. Top with another sheet of parchment. Roll the dough out with a rolling pin until a long rectangle shape, about one foot long. Remove the top layer of parchment.
Spread filling evenly over the dough. Roll up dough, with the longer side becoming the roll, using the edge of the plastic to make a tight log. Cut into 1 1/2 inch pieces.
Place the rolls into a greased muffin tin or onto a cookie sheet about 1 inch apart. Bake in a preheated 350 degree oven for 15-20 minutes or until baked through. Insert a toothpick to check doneness…the toothpick should come out clean.
Spread the frosting on the rolls. Serve immediately to family members who were drooling over the smell of the baking rolls. Store extras in airtight container for up to one week at room temperature, or freeze.