Roasted Squash Seeds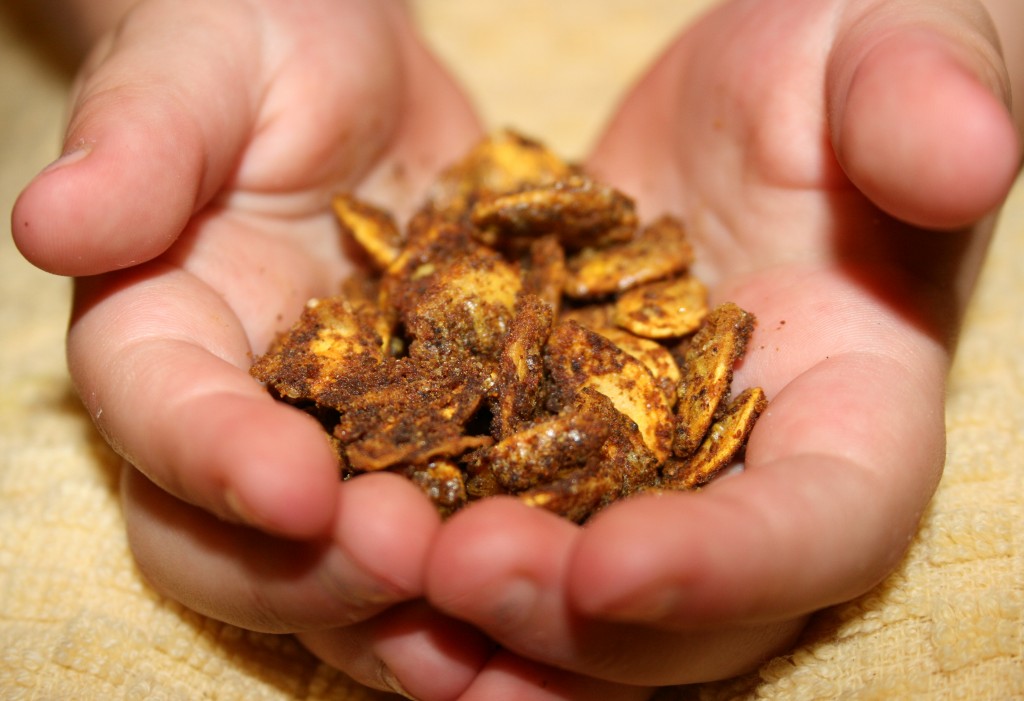 Every time we cook up a spaghetti squash we discard the sinew and seeds. The seeds remind me of pumpkins and fall and cooler weather. They are the same shape, size and color as pumpkin seeds, so why not treat them the same? Since it was about 100 degrees today and I would give anything for cooler weather, it made a bit of sense to roast up the squash seeds as a reminder of cooler times past and future. This recipe, although including cinnamon and stevia, is rather savory and did the trick as far as cooling me off. Little B and Big D loved them too. The seeds ended up being a healthy snack that I plan on repeating any time our menu involves seeds and a waiting cookie sheet.
Roasted Squash Seeds
1 tsp tumeric
1 tsp garlic powder
2 tsp ground cinnamon
1 tsp chili powder
2 packets Stevia in the Raw
1 Tbsp olive oil
1 – 2 cups spaghetti squash seeds
Preheat oven to 250 Fahrenheit. Separate seeds from sinew and set out to dry on a tray for at least half an hour. Don't worry about rinsing them – any squash left on the seeds helps to enhance the flavor. In a small bowl combine spices and sweetener, then add the oil. Add seeds and toss until coated. Spread seeds on a cookie sheet, making sure they are spread out as much as possible. Toast for about 30 minutes, until dried out and crispy. Remove from oven and let cool. If not all eaten immediately store in airtight container until somebody decides it is wrong to let them alone and inhales what is left.